Cyclists riding legally 'more annoying' than speeding and dangerous drivers, according to survey
Legally riding two abreast apparently more annoying than dangerous drivers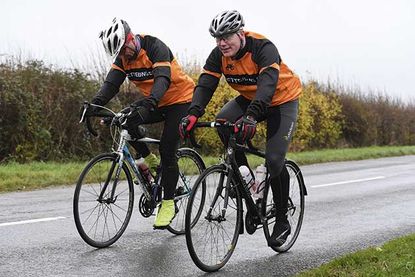 (Image credit: Andy Jones)
Cyclists legally riding two abreast are more annoying than drivers speeding and dangerously overtaking, according to a survey of 2,000 UK drivers.
The survey, carried out by One Poll on behalf of insurance comparison website Confused.com, found that 54 per cent of drivers got frustrated by cyclists riding two abreast on rural roads, compared to 53 per cent who were annoyed by speeding and 48 per cent by dangerous overtaking.
>>> 'Why do cyclists ride side by side? - you asked Google and we've got the answer
A sizeable proportion of these drivers admitted that they expressed anger at, in the words of Confused.com, these "inconsiderate road users", with 34 per cent using their horn and 14 per cent sticking up their middle finger. This anger even extends to animals, with 17 per cent saying that they had shouted at sheep and one in 10 having shouted at a cow when they are in the road.
The good news is that Confused.com does give sensible advice when it comes to overtaking cyclists, saying that motorists should "never feel pressurised by cars behind to overtake" and "give plenty of space and avoid blind corners."
Watch: Things you should know when you first start cycling
Despite apparently being annoying to more than half of UK drivers, cyclists riding two abreast is perfectly legal, and is often the safest way for a group of cyclists to ride as it means that drivers are not tempted to squeeze past on narrow roads or when faced with oncoming traffic, not giving cyclists enough space.
What's more, cycling two abreast can make it much easier for motorists to overtake, as it effectively halves the length of a group of cyclists, allowing drivers to get past in a shorter distance compared to if the cyclists ride in a long, single line.
>>> 'Why do cyclists ride in the middle of the road?' - you asked Google, and we've got the answer
The survey also draws attention to the dangers of rural roads, encouraging motorists to take more care on roads which claimed 10 times as many lives as motorways in 2016.
"It's shocking that so many more accidents are occurring on rural roads than motorways. Many drivers are failing to anticipate the dangers on the roads ahead, and behind the narrow bends," said Amanda Stretton, Confused.com's motor editor.
"Drivers must ensure they adapt their driving to the conditions, to avoid the risk of accidents. Motorists should take extra care when driving along country lanes especially as winter approaches. Speeding and driving recklessly on rural roads can result in drivers being issued with hefty fines, and accidents or car damage could result in increased car insurance premiums."
Thank you for reading 20 articles this month* Join now for unlimited access
Enjoy your first month for just £1 / $1 / €1
*Read 5 free articles per month without a subscription
Join now for unlimited access
Try first month for just £1 / $1 / €1