Danni Khan: from blades to boards
'Forced' to try cycling, the Midlander has never looked back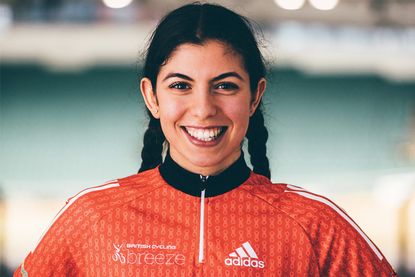 (Image credit: Russ Ellis)
Danni Khan is an athlete used to adapting to change. Five years ago she was a short-track speed skater on a one-way path to the Winter Olympics, before a knee injury forced her to try cycling.
She won two junior sprint world titles in 2013, but last year decided her future lay elsewhere and switched again, joining the endurance programme on the British Cycling Senior Academy.
Khan still has the Olympics in her sights, but now it's competing in the team pursuit at Tokyo 2020.
"I was aiming to go to the Winter Olympics in Sochi, training with the likes of Elise Christie [British speed skater], and then I was injured and I couldn't do the fitness training required, which for short track was running," the 20-year-old from Solihull says.
>>> David Millar mentoring British Cycling academy riders about anti-doping
"I bought a bike, stumbled across my local cycling club and went down to my local session. I didn't know how to ride a bike, change gear, any of that. I really got hooked on track pretty quickly."
Despite the fact Khan was still focused on speed skating, she entered the National Track Cycling Championships in 2011 as an under-16 and won two sprint titles. She applied successfully for the Olympic Development Programme (now named the Junior Academy), but could only take the place on the condition she gave up skating altogether.
>>> 'The best in the world aren't a million miles better than me when I'm going well'
"I was due to move to Nottingham [where the GB short-track team is based] to train full time," Khan says. "I remember writing a list of pros and cons. But my love for cycling, the thought of having to hang my bike up kept making me really upset, so that was the ultimate deciding point for me."
The right time
Khan spent the last two years as a sprinter on the Junior Academy. In 2013 she won two junior world titles in the individual sprint and 500m TT, and competed at the Commonwealth Games in Glasgow. But last September she decided it was time to make the switch to endurance.
"I came into cycling in kind of a unique way and I didn't really explore other disciplines in as much depth as I did on the track and the sprint side of thing," she says.
"I just wanted to give it a go and I felt the time was right for me."
>>> Icons of cycling: UK Sports Institute track bike
Changing disciplines has meant mastering new track events and getting to grips with new tactics as well as a different training regime.
"I spend a lot more hours now on the bike, either on the track or on the road, and spend a lot less time in the gym," Khan says. "Sprinting was very individual, it was just you, the bike and the track and as fast as you could go over three laps or a keirin for instance. This is a lot more tactical, it's a lot longer."
Train like a pro
Road racing is also set to play a big part in Khan's 2016 season, for the first time — other than competing at the UK School Games and in a few circuit races, she has never raced on the road.
However, riders on the Academy endurance programme have traditionally been required to mix track and road, and as such Khan will race extensively on tarmac as part of the newly formed Team Breeze in the UK and abroad this year.
"It's all very alien to me, being part of a road team as well as riding team pursuit on the track," she says. "There's so much to learn because I haven't done any of this before — it's going to be great, I can't wait to get stuck into the races."
>>> "Cycling in Britain has never been in better health" says British Cycling president
Long term, though, Khan's goal remains on the track, specifically gaining team pursuit selection for a World Championships or Olympics.
Yet competition is already fierce, even looking ahead to Tokyo 2020, with 13 riders — eight on the Academy plus the five riders on the Podium programme (Laura Trott, Elinor Barker, Katie Archibald, Joanna Rowsell and Ciara Horne) — potentially vying for the four places.
"You really need that [competition]," Khan explains. "There's not one point in any session where you think, 'Now I can relax off a bit,' because you've got people biting at your heels, ready to take your space."
>>> Trailblazers: The exceptional women who changed UK cycling
Khan speaks quickly but with assurance — it's clear she has the required determination, whatever aspect of sport she pursues.
"From an early age I always knew I wanted to be an athlete full time," she says. "The sacrifices are easy for me to make because I love what I'm doing."
Thank you for reading 10 articles this month* Join now for unlimited access
Enjoy your first month for just £1 / $1 / €1
*Read 5 free articles per month without a subscription
Join now for unlimited access
Try first month for just £1 / $1 / €1