'The best in the world aren't a million miles better than me when I'm going well'
We spoke to Matt Gibson after his impressive year on the track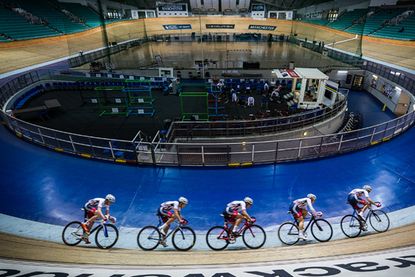 Few young British riders had as successful a 2015 as 19-year-old Matt Gibson. The teenager from Lymm, Cheshire, started his year with a bronze medal at the Track World Cup in Cali as part of a fledgling team pursuit squad, and ended it with a gold in the same discipline alongside Sir Bradley Wiggins at the European Track Championships in October.
In between, he made his debut at the Track World Championships and won two golds at the U23 European Track Champs. Not bad going for a rider who describes his year as "up and down".
"I wasn't really expecting to get a ride in the team pursuit at the senior Euros until quite late on," says Gibson, who recently started his second year on the British Cycling Senior Academy.
>>> Inside the medal factory: A look at the British Cycling Academy
"It was a nice surprise. I'd been put down as a reserve but I knew that I wouldn't ride if Heiko [Salzwedel, coach] thought it better that one of the other riders did it."
Gibson competed in round one in Grenchen, Switzerland, alongside Wiggins, Owain Doull and Steven Burke, as part of the six-man squad that went on to win gold.
>>> Icons of cycling: UK Sports Institute track bike
"It's a great experience; not many people get to ride with guys like Bradley Wiggins, so to be able to do it at such a young age, I'm really pleased," he says.
"Brad's really supportive of me joining the team and I really felt like he welcomed me into the team quite willingly."
Gibson has been making steady progression on the track, and has notched up performances on the road too. In 2014 he won the U23 Ghent Six-Day, partnering Chris Lawless, and took a solo victory at the Tour Series in Peterborough.
Already, however, it's clear to see how determined he is. He admits he was "pretty gutted" to not win an individual medal at the Junior European Track Championships in 2014, but when he returned in 2015, having stepped up to U23 level, he came away with two golds; one in the scratch race, the other in the team pursuit, where the squad set a blistering sub-four minute pace.
>>> UCI Track World Cup set for change after this season
"It's really good to come back a year later and get two golds," he says, "stepping up the age category and still to be able to compete against the older guys and win."
Academy bound
It was Gibson's performance in Cali, in January last year at the World Cup that really set up the rest of his 2015.
He travelled to Colombia as part of a team pursuit squad made up entirely of Academy riders who had little expectation on their shoulders. They came away with bronze, the GB team's only medal.
>>> GB crowned World Cup team pursuit champions after Cali bronze
The following month he was a surprise selection for the Track World Championships in Paris, where he finished an impressive sixth in the scratch race.
"I'd done track races as far as elite was concerned, but not the Worlds," Gibson says.
"I went in knowing what the level was going to be like and I gained a lot of confidence from that, knowing that it's not too far away — the best in the world aren't a million times better than I can be when I'm going well. I gained a lot of confidence from that."
This year will involve more road racing for Gibson. He will swap Manchester for Italy for seven months of the year, and move with the Academy men's endurance squad to their new training base on the Continent.
Yet Gibson hopes to get the new season under way in a similar fashion to last year. He was due to ride the final round of the Track World Cup in Hong Kong, before illness forced him to pull out, while he would love to get a spot and ride at the Track World Championships in London at the start of March.
"That would be a great experience," he says.
Thank you for reading 10 articles this month* Join now for unlimited access
Enjoy your first month for just £1 / $1 / €1
*Read 5 free articles per month without a subscription
Join now for unlimited access
Try first month for just £1 / $1 / €1