David Millar to ride Edinburgh Nocturne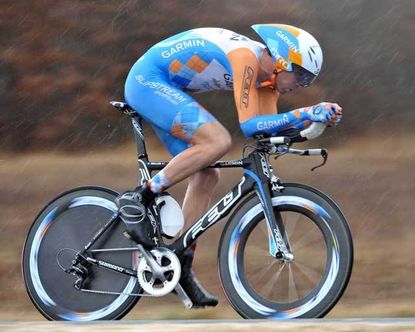 David Millar is set to ride the Edinburgh Nocturne on May 30 as part of his build up to this year's Tour de France.
The Garmin Slipstream rider hasn't raced since the last stage of Paris-Nice when he crashed and broke his collarbone while lying in 19th place. he still doesn't have a definitive race program between now and July. The Giro d'Italia wasn't in his original race program.
The press release said:
Team Garmin-Slipstream?s David Millar will race in the Elite Criterium at the Edinburgh Nocturne, the first event of the Nocturne Series held on Saturday 30th May.
The 32-year-old Scot will relish the opportunity to race in his native country, and it will be an ideal opportunity to get back to fitness, after his crash in the last stage of Paris-Nice, where he broke his collarbone.
Millar?s preparation for his summer goals has been hindered by the crash involving Jurgen Van den Broeck. The Garmin star is now confined to static training. ?It?s my first collarbone in my career which is something for almost every pro. It?s just a bit boring really, but I guess it could have happened at a worse time for me,? he explained. ?I moved into a new house a couple of months ago and I?m just feeling a bit sorry for myself, but I?ve just started back on the home trainer.?
The break was operated on by a leading specialist in Sheffield, the expected recovery time gives an opportunity to concentrate on mid-season goals. ?Everything?s kind of Tour de France orientated for me now, I?ve got from now until then so it?s a perfect period of time for being absolutely 100%.?
Millar is still uncertain about which races he will compete in with his team after his recovery, but is confident of racing in the Volta a Catalunya. ?In view of the Tour it?s not going to make much of a difference whether I race in events like the Tour de Romandie or not; it?s just about getting the best preparation for July,? he revealed.
The Edinburgh Nocturne gives a new angle on racing for Millar after his injury recovery. ?I?ve never raced in Scotland so it?s going to be great and I?m looking forward to it. I know it quite well as it?s where my Dad?s originally from, and I used to spend a lot of time in Edinburgh with friends,? he added.
Talking about the Nocturne Series, the only British rider to hold all Tour de France jerseys said: ?The format is more continental racing, it?s real crowd pleasing stuff which is good and it?s something that cycling does well out of.? Millar was present as a spectator at the first ever event held by the Nocturne Series in Smithfield and commented on the vibe surrounding the events: ?In the evening, there?s such a good atmosphere, and that real buzz and electricity. In Edinburgh it will hopefully be a nice summers evening with people out and about and able to enjoy the racing through the Grassmarket.?
Joining Millar on the start line will be fellow Scot James McCallum who won the inaugural Smithfield Nocturne back in 2007. Now riding for the Scottish based Endura Racing team, McCallum will be joined by a strong eight man squad for the Edinburgh Elite event.
?The Edinburgh Nocturne will be a big race for the team and will be like our home event,? commented McCallum. ?I?m delighted the Nocturne organisers have brought it to Scotland, the visual of night time Crit racing around the Grassmarket will be superb and work fantastically in a city like Edinburgh.?
EXTERNAL LINKS
Thank you for reading 20 articles this month* Join now for unlimited access
Enjoy your first month for just £1 / $1 / €1
*Read 5 free articles per month without a subscription
Join now for unlimited access
Try first month for just £1 / $1 / €1