Downing excited for 2010 as Team Sky get together in Manchester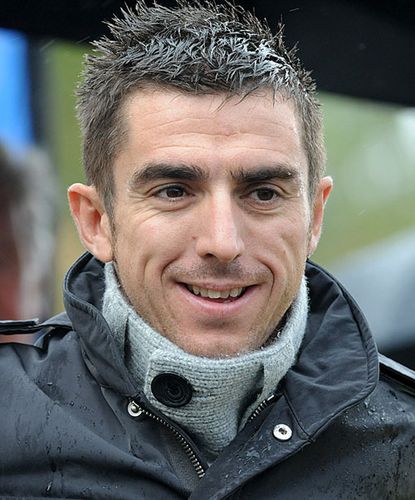 Russell Downing was one of the first riders to arrive at the inaugural Team Sky get together in Manchester on Monday afternoon and despite being 31, he is probably the most excited to be there.
Downing has gone tantalisingly close to breaking through at ProTour level in recent years but never quite made it until he dominated the Tour of Ireland in the summer. His contract with Team Sky for 2010 means he will finally get a chance to ride a full season in Europe and a chance to prove he can compete at the highest level.
For the next five days, Downing and the other 23 riders that have so far been named as part of the new British ProTour team, along with the 37 new members of staff, will gather in a hotel on the outskirts of Manchester as Team Sky is brought to life.
Some riding is planned during the get together but most of time will be spent in meeting rooms, as the riders and staff from 13 different nations begin to get to know each other and work together towards success in the 2010 season.
Downing has already begun training for a possible early start to the season at the Tour Down Under in Australia. He knows he will ride a Pinarello Dogma bike, fitted with the new electric Shimano Di2 gears, but will find out everything else between now and Sunday.
"I'm very excited about it all. It's great to get started and I can't wait," Downing told Cycling Weekly just after arriving at the hotel on the outskirts of Manchester.
"I started training again about two and half weeks after the world championships (on September 27) and I've been keeping it pretty steady since then. The weather and doing different things have affected it but I've had some good weeks."
"I've perhaps started early but I love to train. I'm trying not to do too much and I'm holding back a little bit because I know I've got a long, hard season ahead of me."
Downing has been part of the Great Britain team in the past but like everyone at Team Sky, he has been told little about what will happen in the next few days.
"We were told to enjoy our break and now I suppose the jigsaw puzzle is about to all coming together. I'm not sure of what the full programme is. I know some of the guys have brought kit and there are two slots to go out on Thursday and Friday morning. We'll see what the weather's like and see who is up for going out."
Tour Down Under debut
As well as team building, sponsor presentations, and technical meetings, the get together will also serve to finalise riders' programmes.
"There'll be one-on-one meetings this week and so I'm sure we'll find out a lot more. I've heard I might be starting with the Tour Down Under in Australia in late January. I'd love to ride that," Downing told Cycling Weekly.
In 2009 Downing was team leader at the British CandiTV-Marshalls Pasta squad. In 2010 he may have a chance in some sprints but will also have to sacrifice his own chances for his team mates. He is intelligent and experienced enough to understand that, but hopes he can have a chance to ride for himself, perhaps in some of the spring classics.
"I'd love to have a pop at the classics. After (winning the Tour of) Ireland I know I can compete at that level and in tough lumpy races like the classics. But I know I have to ride for the team and I'm happy to do that. I'm going to keep my head down and just give it everything. I know this is a big chance for me."
Related links
Team Sky: As it happens - everything you need to know about Team Sky
Downings' charity fundraiser hailed a success
Russell Downing: Rider Profile
Thank you for reading 20 articles this month* Join now for unlimited access
Enjoy your first month for just £1 / $1 / €1
*Read 5 free articles per month without a subscription
Join now for unlimited access
Try first month for just £1 / $1 / €1