Dr Hutch: Why racing with panache is so important - if you can pull it off
Panache — the divine attribute that transforms poor judgement into romantic heroism in a bike race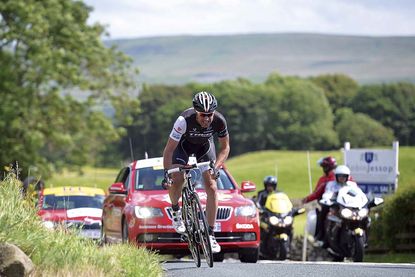 (Image credit: Yuzuru Sunada)
Get The Leadout Newsletter
The latest race content, interviews, features, reviews and expert buying guides, direct to your inbox!
Thank you for signing up to The Pick. You will receive a verification email shortly.
There was a problem. Please refresh the page and try again.
In an interview a couple of weeks ago, Alberto Contador talked about the need to race with style, and how in some ways style was more important than winning.
We have heard this argument before. This is our old friend 'panache'. Defined as 'reckless courage', it has been a one-word get-out-of-jail-free card for at least three decades of French bike riding. So it's nice to see it cross the Pyrenees.
(I know it's a cliché to say that panache is a particularly French obsession, but I did once interview a French fan about Romain Bardet, and she said, "He's the best French rider, yes, one day he'll win the Tour, yes, but he's no Tommy Voeckler.")
It's a phenomenon unlikely to cross the Channel. Last year a French colleague told me that, "The British have no word for panache. That's why they keep winning the Tour."
But it's essential. In pro cycling, you can only do three things. You can win, or try to. You can help someone else win, or try to. Or you can ride with panache. Occasionally a panache-fuelled rider wins — Jens Voigt, for instance. Generally they don't, and even when they do it's obviously an accident.
>>> Dr Hutch: Can we have Strava wind segments, please?
Panache can be a safety net as well — it can be offered up as a justification for almost any wildly erratic tactical misadventure. If you're going to balls up a race, the more comprehensively you balls it up the better.
Eye of the beholder
But what of the rest of us? Of what use to us is panache? My friend Bernard, for example, once resigned himself to not being good enough to win races, and to being too misanthropic to help someone else.
He resolved instead to race with… panache. It didn't work. I know it didn't work, because afterwards he had to carefully explain that, "I was racing with panache." I told him he wasn't, because panache is clearly in the eye of the beholder, and sitting on the back for 150km while cursing wasn't it. He told me I could kiss his panache, and we called the discussion a draw.
My own attempt was, if anything, worse. I clipped off the front of a bunch with 60km to go in a desolate race in Norfolk, got about a 20-second lead, vanished round a corner and was immediately forgotten by everyone in the race. It turns out that you cannot panache alone. When a team-mate pointed out that at least I'd "shown the jersey," I asked to whom I'd shown it. After a little thought, he said, "Some cows."
That time I managed to salvage a win, but it wasn't what I wanted, not least of all because the 60km solo break is unbelievably boring. It's like a very dull training session, except at the end you have enemies you didn't have when you started. (Although see also, 'going for a training ride on your anniversary'.)
>>> Dr Hutch: Celebrating the terrible cycling kit of the 1990s
What of broader panache? Sportive panache, for example? This suffers from the basic problem that to the untutored eye, 'panache' and 'really bad pace judgement' are difficult to tell apart, and to be honest very few sportive rides attract the sort of dedicated punditry that might do so.
Oddly, I suspect it may be easier to ride with panache on Strava — I've even come up with the word 'stranache' to describe it. Downhill KoMs, KoMs attempted into the prevailing wind, eccentric segments on half-gravel roads in the rain… anything that's a bit non-conformist probably counts as stranache. And unlike a sportive, Strava attracts exactly the sort of forensic attention you're looking for.
Whether Alberto would be impressed with your stranache I don't know. But I do know that he made a related mistake in not coining the word 'Espanache' to describe his attitude. But I'm looking forward to seeing it in action.
Thank you for reading 20 articles this month* Join now for unlimited access
Enjoy your first month for just £1 / $1 / €1
*Read 5 free articles per month without a subscription
Join now for unlimited access
Try first month for just £1 / $1 / €1
Get The Leadout Newsletter
The latest race content, interviews, features, reviews and expert buying guides, direct to your inbox!
Michael Hutchinson is a writer, journalist and former professional cyclist. As a rider he won multiple national titles in both Britain and Ireland and competed at the World Championships and the Commonwealth Games. He was a three-time Brompton folding-bike World Champion, and once hit 73 mph riding down a hill in Wales. His Dr Hutch columns appears in every issue of Cycling Weekly magazine