Two more pro-contracts on offer as 2018 Zwift Academy opens for third year
Two more riders - one woman and one under-23 man - will be awarded with pro contracts following the eight week programme which begins on August 6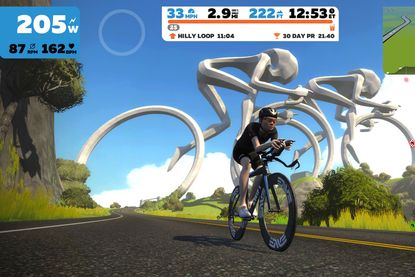 The Zwift Academy is back for 2018 and the online training platform has once again teamed up with Team Dimension Data and Canyon-SRAM women's team to seek out two hidden talents and award them a pro contract each.
The Academy is now in its third year, having funnelled three new riders into the pro ranks - 2017 winner Tanja Erath, 2016 winner Leah Thorvilson who had her contract extended this year, to Canyon-SRAM plus former speed skater Ollie Jones who found himself a home at Team Dimension Data's under-23 squad.
>>> Indoor cycling apps compared
Speaking at the London launch, Team Dimension Data's Mark Cavendish - a self-confessed Zwift convert - said: "I joined the pro peloton after coming through the British Cycling Performance Academy. At the time this was a brand new concept to try and help talented British riders break through in continental Europe. It's exciting to see another new, even more radical route to the professional peloton with Zwift Academy."
Former triathlete Erath took up cycling following an injury which halted her running - racing fixed gear crits and then entering the Academy, having borrowed a turbo trainer from a friend.
>>> Beginner's guide to indoor cycling: all you need to know
Erath has been racing with the team throughout the season and told Cycling Weekly: "It's still intimidating and mostly I'm really nervous before races - but everything I do and every move I cover for the team I feel like I'm learning. I'm able to protect my team mates and work for them, and they seem pretty happy with that and say I'm adapting quickly. It's super fun and I love every race day."
The experience has changed her perception of her rider type, Erath said: "I didn't really have much explosive power, but when I switched to fixed gear racing and I talked to my coach about it and we worked hard on accelerations. Then I did the Zwift academy, and I've since been told 'you're a sprinter'.
"It seems like I have some talent in the sprints, but I kind of forced myself into triathlon. I don't think I would have learned that I'm suited to this kind of riding without the experience I've had with Zwift."
Men's winner Ollie Jones has been back on the indoor trainer recently, having suffered some injuries following early season crashes. But he's back racing now, and looking forward to the coming months.
"I've had a few setbacks, and been injured, but that has allowed me to do a lot of structured training indoors. I've been doing a lot of short, sharp stuff, none of the longer, four hour rides that you'd do out on the road. Coming into the second half of the season I'm feeling positive and looking forward to getting back to racing."
Jones, who says sport is "in his blood" entered the Zwift academy already knowing he did well in races on the online platform, but adds: "I was in it to win, but for many it's a great way to share an experience and improve overall fitness. It's a great challenge for people of all abilities."
Entry to the 2018 Zwift Academy is now open (opens in new tab). The programme consists of 10 workouts, four group rides and two races - all starting on August 6; 20 semi-finalists (10 men and 10 women) will be unveiled in early October.
This year, Zwift wants to see riders who are not contending victory complete as much of the Academy as possible, so it's added four 'unlocks' - one after each quarter - where rewards will be available both online and in real life.
Eric Min, Zwift CEO and Co-Founder said: "Unfortunately I can't win a pro contract, but I will be taking part and am keen to see how my FTP improves again this year.
"As an extra incentive for people to complete the program, we will be donating one Qhubeka bike for every 10 graduates of the Men's Zwift Academy to support the Team Dimension Data for Qhubeka cause. It's a fantastic program that helps deliver better transport to remote areas of Africa. Get enrolled, get fitter and help a worthy cause in the process."
All riders will be offered premium access to Today's Plan for the duration of the Academy, enjoying a full set of tools to help them analyse their progress. Users will also be able to see how they stack up against those in their age group and across the overall competition.
Thank you for reading 5 articles this month* Join now for unlimited access
Enjoy your first month for just £1 / $1 / €1
*Read 5 free articles per month without a subscription
Join now for unlimited access
Try first month for just £1 / $1 / €1