Eurostar makes U-turn on bike policy changes after pressure from cycling groups
The campaign, led by the CTC, has successfully lobbied Eurostar to reconsider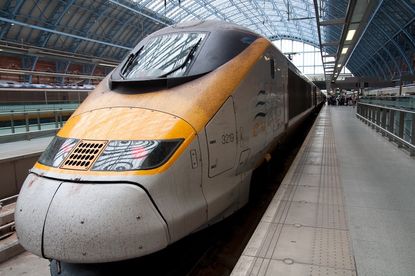 (Image credit: Flickr and Wikipedia)
After pressure from cycle campaigners, international train operator Eurostar has performed a U-turn on a new policy that would have required cyclists to strip down and box their bikes before travelling on the service.
The campaign was led by the Cyclists' Touring Club (CTC), with the London Cycle Campaign (LCC) also instrumental in applying pressure.
LCC conducted a survey that found almost all respondents would consider taking their bike by ferry or plane as opposed to Eurostar, if the policy had gone ahead.
Ninety-eight per cent of Londoners who took part in the survey stated that they would explore different ways of taking their bikes across to the Continent in light of changes to Eurostar's proposed cycle carrying policies.
The train company, which runs services from London's St Pancras to Paris and other destinations on the Continent, revealed changes to the way bikes are carried on board in October, with bikes needing to be boxed and being reduced to a size that most bikes are unable to be reduced to.
The plans received a number of objections, including from London mayor Boris Johnson, and now the survey by the LCC has uncovered the public's response.
The 1,241 respondents were asked: "Would the requirements to dismantle your bike discourage you from travelling by Eurostar in favour of a more convenient way to travel with your bike? i.e. By ferry or plane?" - 98 per cent said yes, with just 19 individuals saying no.
Don't forget anything
Of the respondents, 35 per cent had previously travelled with Eurostar, with 64 per cent saying it was "easy and convenient" doing so. Just eight per cent said it was "inconvenient".
Eighty-one per cent of those who answered were concerned that they felt they wouldn't be able to disassemble and reassemble their bike at the stations.
A staggering 60 per cent said that disassembling their bike at the station would damage it, while 76 per cent were concerned about the length of time it would take.
Thank you for reading 5 articles this month* Join now for unlimited access
Enjoy your first month for just £1 / $1 / €1
*Read 5 free articles per month without a subscription
Join now for unlimited access
Try first month for just £1 / $1 / €1