Want to take your bike on Eurostar? You'll have to put it in a box
Eurostar train company to introduce new rules for taking bicycles on its services: all bikes will have to be boxed - Move attracts widespread criticism from passengers and cycling groups - Eurostar says it can provide boxes for free, and staff to help with the packing of bikes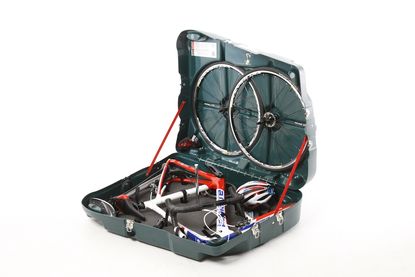 (Image credit: mike prior)
Get The Leadout Newsletter
The latest race content, interviews, features, reviews and expert buying guides, direct to your inbox!
Thank you for signing up to The Pick. You will receive a verification email shortly.
There was a problem. Please refresh the page and try again.
Cross-Channel train operator Eurostar is set to introduce a new policy for those taking bikes on its services: from November, bikes will have to be boxed. The move has attracted criticism from cycle organisations and cyclists.
According to Eurostar, the new rule will be introduced to maximise the space available on its services for bikes and other luggage. Previously, passengers could take bikes on trains - complete and unboxed - for a £30 fee.
Eurostar said in a statement: "Passengers with bikes have and continue to be important to us. Our new policy has been introduced so that we can use the space on our trains more flexibly, by carrying the same or more bikes depending on the demand from passengers.
"The only change is that bikes will now need to be carried in a bike box, either your own or one which we are happy to provide. When packaging bikes in this way, they take up less space which means that we can carry more bikes, or any other type of luggage."
Some of the criticism has come from cycle tourists, who ride to the station, get on the train and then ride at the other end and they see it as an inconvenience. Eurostar are offering a solution to this: they can provide a box for free, with staff on hand to help with the packing and unpacking of bikes.
Cycling organisation CTC has branded the new rule as making cyclists feel like "third-class passengers". CTC chief executive Paul Tuohy called Eurostar "hypocritical" as it sponsors an award for sustainable travel.
"It's hypocritical that an organisation with a history of sponsoring awards celebrating the achievements of pioneering travel initiatives could come up with such a barmy policy on cycle carriage," said Tuohy.
Watch: How to fit handlebar tape
"There is nothing sustainable about this policy, as it would actively discourage the people we want to see cycling more from using what is otherwise a fantastic service. For the new cyclist or those who rely on cycling as a mobility aid, dismantling and reassembling a bike for transit is too difficult.
"With London, Paris, and Brussels each vying to be top cycling cities and Amsterdam, arguably Europe's cycling capital, due to join the Eurostar network in 2016, now is not the time to take a step back in cycle rail policy. Cyclists should not be treated as third-class passengers and we urge Eurostar to reverse their planned policy."
CTC is urging those concerned at the new Eurostar policy on bikes to contact Eurostar's CEO, Nicolas Petrovic, via it's online campaign page.
Thank you for reading 20 articles this month* Join now for unlimited access
Enjoy your first month for just £1 / $1 / €1
*Read 5 free articles per month without a subscription
Join now for unlimited access
Try first month for just £1 / $1 / €1