Who exactly is Tom Pidcock and why is he described as a 'mini-Sagan'?
We detail exactly who the in-demand Tom Pidcock is and why he has been likened to Peter Sagan.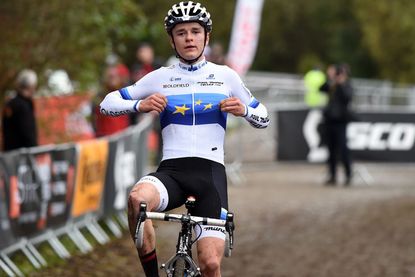 (Image credit: Andy Jones)
Touted as a "mini-Sagan" and attracting the attention of WorldTour teams at just 17, Tom Pidcock is the most highly-rated British rider for a generation.
The reigning junior national, European and world cyclocross champion, the Leeds teenager is just as prolific on the road as he is a muddy trail, and his bike-handling skills and celebrations would be a match for Peter Sagan (hence the similarities).
Born in the summer of 1999, Pidcock took up cycling from an early age and his winning instincts were prevalent from the off: in just his second race, aged eight, he won the West Riding Track League 400m scratch.
Over the next five years, racing for Lichfield City and then Aire Valley RT, Pidcock was a regular visitor to the podium in juvenile and youth track and circuit races. In total he won 40 times, with the standout years being 2011 when he was victorious on 13 occasions, and 2013 when he won 17 races.
It was May 2014, though, where Pidcock first emerged as a prodigious talent. At just 14-years-old, he beat adults in the 2/3/4 category Lewis Balyckyi Memorial Crits race. He would go onto win 25 races in all that year.
Joining Oldfield-Paul Milnes in 2015, Pidcock continued to rack up his victory tally, winning a further 24 races across road, cyclocross and track, including five category 2/3/4 races.
The winter of 2015/16 saw Pidcock win four rounds of the cyclocross National Trophy in the junior men's category, before finishing second at the Hoogerheide World Cup event and fifth in the World Championships.
By then he was a name that most domestic cycling fans were acquainted with, but it was 2016 that he began to become more widely known.
On the road and track he took 15 wins, including an impressive victory in the Clayton Spring Classic, an E/1/2/3/4 event, where he beat UCI Continental pros such as James Gullen and Jack Pullar. He also won two stages of the Junior Tour of Wales.
On foreign soil, the Yorkshire teenager turned in a series of excellent results racing for VCUK-Ph-mas and Great Britain: he won a stage and came second at the Acht van Bladel in the Netherlands; won the Premio Santa Isabel race in Spain; claimed three podium places at the Junior Tour of the Basque country; and then won La Philippe Gilbert Juniors in convincing fashion, a race won in the past by Jan Bakelants and Jasper Stuyven.
In the 2016/17 cyclo-cross season, the Oldfield-Paul Milnes rider raced 15 events and won a quite staggering 13 races.
His winter palmarès included three wins in the UCI Junior World Cup and then, of course, his European, National and World Championship successes.
It is little wonder the Belgian press have made similarities with Peter Sagan and have described him as an "English wonder-boy".
With Pidcock now turning his attention to the 2017 road season, several WorldTour teams are chasing his signature. Cyclocross teams are also wanting to secure his services for next season, with Sven Nys' team Telenet-Fidea Lions thought to be in pole position.
Win count in all disciplines, in all age ranges and in all countries, to date (correct as of February 15, 2017): 117
2008: one win
2009, six wins
2010, two wins
2011, 13 wins
2012: two wins
2013: 17 wins
2014: 25 wins
2015: 23 wins
2016: 24 wins
2017: four wins
Thank you for reading 20 articles this month* Join now for unlimited access
Enjoy your first month for just £1 / $1 / €1
*Read 5 free articles per month without a subscription
Join now for unlimited access
Try first month for just £1 / $1 / €1