Which town has the UK's fastest cyclists? These Strava stats reveal the answer...
Congratulations Ballymena, you've won Strava for 2017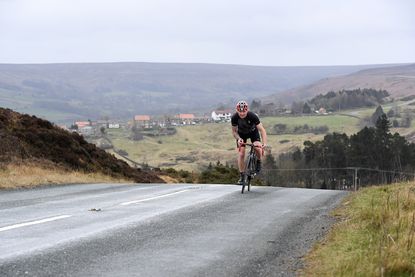 The small Northern Irish town of Ballymena might be best known as the birthplace of Liam Neeson, James Nesbitt, and Brendan Rogers, but it's also been revealed as the home of some of the UK's fastest bike riders, according to stats revealed by Strava.
The Strava Year in Sport report is packed with a huge number of stats on the UK's cycling and running habits, including how the cyclists of Ballymena not only manage the longest average ride distance of any UK town at 51km, but are also the second fastest, with an average speed of 33.2kmh.
Ballymena's cyclists are pipped to the title of fastest in the UK by the riders of Ceredigion, who apparently whip around at an average speed of 33.5kmh, while those in Scotland are really packing in the miles, with Stirling's cyclists having the highest average ride duration at 1:38 hours.
>>> Five tips to nail the Rapha Festive 500 on Strava
Unsurprisingly though, it is London which racks up the most activities, with a whopping 4,987,963 rides having been uploaded in 2017, which also means that the snappily-named "RP3 - fall 148ft to 129ft to traffic lights (-19ft)" segment in Regent's Park is the most popular in the UK, having been tackled more than two million times this year.
The stats also give you a chance to compare your riding stats with the rest of Strava, with female riders averaging 28km per ride at 20kmh, while men average 32km at 24kmh. As far as commutes go, the average ride to work is 13.1km in length at 22.1kmh.
Watch: How to upload a Strava route to your Garmin
Away from the serious stuff, there are also a few clues about what motivates people to ride and run, including frequent mentions of food and drink in activity titles.
There are no prizes for guessing which forms of "nutrition" are most popular, with coffee being mentioned more than 40,000 times in activity titles, and cake not too far behind. There also seem to be a few people hitting Pizza Hut and McDonald's for mid-ride snacks, with pizza being mentioned 5,684 times, and burgers 3,254 times.
>>> Want your Strava feed back in chronological order? Here's how to do it
Aside from food, the numbers also give an idea of what can motivate people to keep riding and running. Those who workout with others apparently complete 22 per cent more activities, which grows to 46 per cent among those who are members of clubs.
Finally, those who ride during the week are also more likely to ride at the weekend, with commuters uploading 43 per cent more activities at the weekend than those who take other forms of transport to work.
Thank you for reading 20 articles this month* Join now for unlimited access
Enjoy your first month for just £1 / $1 / €1
*Read 5 free articles per month without a subscription
Join now for unlimited access
Try first month for just £1 / $1 / €1