Gary Verity: 'Top teams want the 2019 World Championships to come to Yorkshire'
Welcome to Yorkshire chief executive Sir Gary Verity says that Yorkshire can offer any type of road race course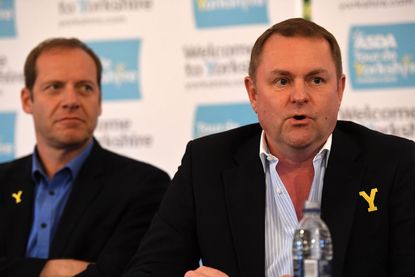 (Image credit: Andy Jones)
Yorkshire's bid to host the 2019 World Road Championships has been boosted with several top teams contacting Welcome to Yorkshire chief executive Sir Gary Verity to lend their support.
Yorkshire are up against a believed four or five other candidates to hold the Championships in three years time, with Verity optimistic about the county's chances in becoming the first UK host of the competition since Goodwood in 1982.
Having built up strong relationships within the cycling fraternity since hosting the 2014 Tour de France Grand Départ and subsequent Tour de Yorkshire, Verity has had messages wishing the bid well.
The UCI's delegates will decide the whereabouts of the 2019 event at this October's Worlds in Doha, Qatar.
>>> Eight key questions about Yorkshire's Road World Championships bid answered
"I've already had a number of the top teams saying we really hope you get it in Yorkshire; they really want it to come to Yorkshire," Verity told Cycling Weekly.
"I am confident we have put forward the best possible bid we can to put ourselves in the best possible position.
"The World has woken up to the fact that there is this cycling heartland known as Yorkshire. It's a very beautiful, passionate place where you get well fed and water, and you're with like-minded people.
"We're not complacent and clearly there are other countries bidding, but all we can do is concentrate on our own bid and persuade the powers-that-be that Yorkshire can be a real fitting venue for one of the most prestigious events in the world, certainly in cycling.
"We wish every other bid well, but not well for 2019 as that's our year."
>>> Yorkshire misses out on hosting September's European Road Championships
The bid - which has been in the planning for more than a year and will cost £9m with funding from the government - has promised to cover all four corners of the county.
Both Verity and the UCI have remained coy on possible locations for both the road races and time trials, but the former says that Yorkshire's bid stands up stronger than most others because of the variety of terrain and parcours they can offer.
"We've had several meetings with the UCI and they have visited in a large contingent," he added.
"They spent a lot of time looking at the various choices they have in terms of parcours because Yorkshire can offer anything.
"If the UCI wanted a flat stage, we can provide that. If they wanted a really hilly tough stage, we can provide that. If they want something that's undulating, more like an Ardennes or Flanders classic, we can provide that as well.
"We think that because we have so much choice in terms of ingredients and racing roads, the reality is that whatever race you wanted, we could satisfy and exceed those requirements in Yorkshire.
"We're very keen that the race is classically Yorkshire. We think the bid does that and that it takes in as much as Yorkshire as possible without it becoming a parade around the county."
The area's "huge appetite for cycling" also stands it in good stead, Verity believes. "Whenever we put on a bike race in Yorkshire, we get these huge crowds and for the World Championships I'm confident that we'd get millions on the roadside cheering on the best women riders, the best male riders and the best juniors."
Thank you for reading 20 articles this month* Join now for unlimited access
Enjoy your first month for just £1 / $1 / €1
*Read 5 free articles per month without a subscription
Join now for unlimited access
Try first month for just £1 / $1 / €1