Girl, 4, told by police not to cycle on the pavement
The parents of Sophie Lindley, 4, were told by a police officer in Grantham that she wasn't allowed to ride on the pavement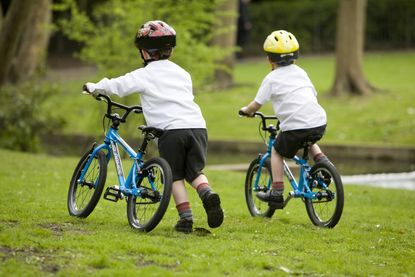 (Image credit: chris catchpole (not free))
The parents of a four-year-old girl, who was told by police that she couldn't ride her bike on the pavement, have described the officer's reasoning as 'daft'.
Sophie Lindley was riding on Trent Road in Grantham when the police officer warned her parents that she would have to get off her bike.
Cycling charity CTC points out that being under the age of 10 the girl is below the criminal age of responsibility, meaning she can indeed cycle on the pavement.
>>> Safety fears put children off cycling, says Brake report
Sophie's father, Dale, told the BBC: "We stopped to look at some ducks when the officer pulled over and said she had to get off," he said. "He said 'The law is the law' and she was not allowed to ride on the path.
"He said 'If I catch you put her on her bike further up the road I will turn around and confiscate the bike'.
"I couldn't believe it. It's daft."
>>> Children who cycle to school could win part of a £10,000 prize fund
Lincolnshire Police apologised and said: "Safety is our priority and cycling on the pavement is illegal.
"However, common sense obviously prevails and in the case of young children officers should use their discretion and offer the most appropriate advice for the circumstances."
Thank you for reading 20 articles this month* Join now for unlimited access
Enjoy your first month for just £1 / $1 / €1
*Read 5 free articles per month without a subscription
Join now for unlimited access
Try first month for just £1 / $1 / €1