GLOBAL RACING TEAM GO SWIFT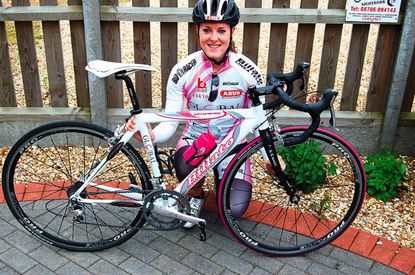 Global Racing Team have signed a new sponsorship deal which will fund a new initiative to find and train top riders from the UK for the 2012 Olympics.
Swift Group will now sponsor the Belgian based team, from 1 January 2008. The sponsorship will open a new route to young riders who want to race professionally with a view to entering the Olympics in 2012. Global Racing has been established for three years and was the first ever British women?s professional team.
Manager Stefan Wyman said: ?One of the major differences in the programme is that we will constantly be reviewing new talent and feeding riders into the team on a phased basis so that we can give as many people as possible the chance to make it to the top of the sport. British cycling is doing a great job to take its selected riders forward and provide them with opportunities to succeed. We intend to continue to allow other riders to have an alternative route in cycling.?
Swift Racing has redesigned several leading riders for 2008 including Helen Wyman, Louise Moriarty and Debby van den Berg. Olympic rider Toni Bradshaw joins them along with Commonwealth Games Medallist Emma Davies Jones. The most recent addition to the squad is Alice Monger-Godfrey, who won a bronze medal in the under-23 National Championships.
This is another great boost for women's cycling after it was announced that Nicole Cooke will be the leader of a British-sponsored professional team in 2008 after leaving the Raleigh-Lifeforce squad.
2008 Riders
Emma Davies Jones UK
Alice Monger-GodfreyUK
Gabby DayUK
Helen WymanUK
Louise Moriarty Ireland
Jenny FayIreland
Toni BradshawNew Zealand
Marina Duvnjak New Zealand
Ine BeyenBelgium
Lien BeyenBelgium
Debby van den BergHolland
Sigrid JochemsHolland
Sarah Reynolds UK Junior
2008 Race Program (Selected Major Events)
16 MarchHet Volk (Belgium)
6 April Tour of Flanders (Belgium)
23 AprilFleche Wallone (Belgium)
27 AprilCheshire Classic (UK)
11 MayOlverston Road Race (UK)
16 MayTour de L?aude (France)
7 JuneOmloop Humsterland
19 JuneSter Eilanden
2 JulyGP Gerrie Knetemann
16 JulyTour of Brittany
1 AugustWorld Cup Sweden TTT
3 AugustWorld Cup Sweden
10 AugustHolland Hills
24 AugustGP Plouay
RELATED LINKS
Pro Bike: Gaby Day's Billato Gran Premio
EXTERNAL LINKS
www.teamswiftracing.com
www.swiftleisure.co.uk
www.gabbyday.com
www.helenwyman.com
www.emmadaviesjones.co.uk
Thank you for reading 20 articles this month* Join now for unlimited access
Enjoy your first month for just £1 / $1 / €1
*Read 5 free articles per month without a subscription
Join now for unlimited access
Try first month for just £1 / $1 / €1