Going the ultra distance: one man's unaided ride around the Dolomites
Dominic Irvine, who was the first person to ride the Ultracycling Dolomotica unaided, tells us all about this feat of endurance cycling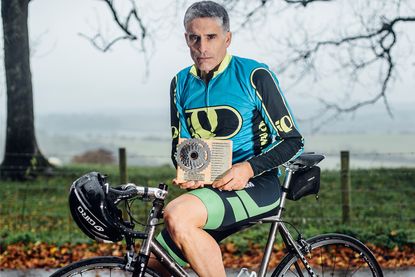 "I can't remember the number of times I had to force myself to stay awake. I'd be rolling along the road with my eyes closed. I'd do everything to keep awake, even solving maths problems in my head.
"I'd then hit a pothole and that would make me jump. 'Stay awake!' I'd tell myself."
Welcome to the life between 2am and 4am of ultra-distance cyclist Dominic Irvine. The Hampshire cyclist hit the headlines in May when he and Charlie Mitchell broke the tandem record by five hours, riding from Land's End to John O'Groats in just over 45 hours.
>>> 28 things you'll only know if you've done Lands End to John O'Groats
His sleep deprivation recollection, though, is not from his LEJOG journey; it's from his latest ride, September's Ultracycling Dolomotica: a non-stop 606km time trial involving 16,000m of climbing and 16 epic mountain passes in a loop around the Italian Dolomites.
Irvine could have been supported, but he opted to ride unsupported, buying food en route and carrying clothes and repair kit.
>>> Riding the Maratona dles Dolomites: 9000 riders in Italy's stunning mountains
"Fitness I just had to get: that took time, effort and the right training. It was mainly a test of mental endurance. I knew I'd go through low points, that was inevitable," he recounts.
The inevitable included moments of anguish during the race — times when it seemed like the world was his foe. On these occasions, experience proved immeasurably valuable. The 47-year-old is not short of ultra-cycling knowledge, having ridden through the UK to Geneva and completed the 535km Race Across the Alps.
>>> 17 of the best international sportives to ride in 2016
As an indication of his experience, he says that "riding to Paris for lunch becomes a very reasonable training ride when your next race is at least twice that distance".
All those hours in the saddle ultimately paid off, he explains. "From experience comes a profound sense of understanding that is truly liberating.
"Mentally, [Ultracycling Dolomitica] was so tough. At first when you suffer, it's unpleasant and deep, but I learned coping strategies so that the unpleasantness wasn't as deep or long."
Everything in place
"I had to be resistant to things that could go wrong, which meant having everything in place. At night I couldn't be fretting about the route or my power output — that's too much. I needed to put to bed those factors.
"I needed to plan ahead for potential problems to nullify them, working out before what might go wrong.
"The draw of abandoning can be immense. Deep fatigue and being cold and miserable can make it an easy decision. Continuing means developing an approach where it's not a question of 'if' I will finish but all the things I need to do to ensure I did finish."
>>> Seven simple steps to be a successful cyclist
Irvine didn't just finish; he was eighth fastest and the first solo unsupported rider to complete the race in its history.
All of which poses the question, why? "Three things appealed to me," he says. "I wanted a challenge that was pure: just me, the road and the bike.
>>> Should you really train like a pro?
"I also wanted to do something somewhere truly beautiful. I love cycling because of what you can see. It's the first time I've visited the Dolomites and it's a beautiful part of the world.
"Thirdly, I love ultra-distance cycling, and I love being unsupported most of all. It requires you to be able to navigate, deal with mechanicals, manage hydration and nutrition and have the mental resilience to cope with weather and the intense sense of remoteness on your own and in the dark."
How it worked for Irvine
Buy food en route: "Food can be heavy and you don't want increased weight when going up a 44km climb. There are always shops in villages and towns."
Prepare by doing a recce: "I can't emphasise enough the importance of experience. Only through practice can you eliminate problems."
Enjoy the surroundings. "It was so aesthetically beautiful. Enjoy the scenery. That's what is great about cycling."
The weather atop the cols — heavy rain, which turned to snow for later competitors — was an aspect of the challenge that Irvine couldn't have planned for. Everything else, though,
was prepared for meticulously.
Again, experience proved important. "I'd done about 15 night rides — experience is noted on a range of things," he says. "There was only one way of finding out what it would be like, and that was by training in conditions similar to those in which I was racing.
>>> How much speed can you buy? (video)
"Long hours, often overnight throughout the depth of winter had helped me find the right kit to survive bad weather, making the final decision on kit easy.
"The tools I carried were those that I'd found I wished I had with me when things had gone wrong in the past."
Of the race's 38 starters, only 20 finished. Irvine's eighth place overall was the reward for a measured approach.
Get your nutrition spot on
Judging the effort
Restraining his speed was the method to success. "Every time I headed into the red, I severely impacted any chance of finishing well or at all, so I had to play the long game, hour after hour of constant effort," he explains.
>>> How to tell whether you are overtraining, and how to avoid it
"I rode at 230 watts all the time, which was nothing at first but at the end it was a lot harder to turn out. Although during the last six hours, I actually ramped it up to 260 watts.
"I was super-disciplined. You see the profile of other riders who were absolutely flying at points, and their profiles are full of spiked efforts, whereas my constant effort enabled me to have an 11mph average."
>>> Detraining: The truth about losing fitness
Irvine conquered a mental battle between logistics, proper planning, mental and physical exertion. Even more impressively, he claims that if he hadn't had to stop for food and to change clothes, he would have been two hours faster.
Here is a man who has truly turned himself from an ordinary cyclist into a human pedalling machine.
Pack right, ride right
Partner in pain: Charlie Mitchell
Charlie Mitchell rode the LEJOG tandem record with Irvine.
"His approach to riding is essential to his accomplishments: he trains by power, he does specific sessions, he doesn't just ride for riding's sake, he rides for a point. His experience is massive, too," Mitchell says.
"He knows how to deal with situations like running out of food, and has contingency plans for seemingly everything. He's mentally very strong.
"He's very good to ride with. We have a good understanding: if he's standing up too much, I tell him. He has an enjoyable personality."
Thank you for reading 20 articles this month* Join now for unlimited access
Enjoy your first month for just £1 / $1 / €1
*Read 5 free articles per month without a subscription
Join now for unlimited access
Try first month for just £1 / $1 / €1