Greg Van Avermaet facing possibility of two-year ban after doping hearing
The BMC rider appeared in front of the Belgian Cycling Federation on Thursday, with the possibility of two year ban and a €262,500 fine for links to doping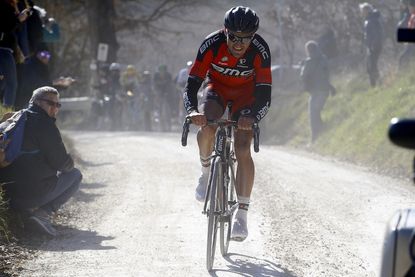 (Image credit: Watson)
Greg Van Avermaet (BMC) could face a two year ban and a heavy fine if he is found guilty of doping by the Belgian Cycling Federation, as part of their ongoing investigations into alleged ozone therapy doctor, Chris Mertens.
The Federation's attorney, Jaak Fransen, who was late for Van Avermaet's hearing having been caught in traffic, recommended for the rider to be fined €262,500, as well as the lengthy ban, for his connections to Dr Mertens, should the Disciplinary Commission find him guilty when it makes it's final decision on May 7.
The delay in the decision means the Classics specialist, who finished third in Paris-Roubaix last week, is free to ride at the Amstel Gold Race on Sunday as he continues to maintain his innocence.
Van Avermaet was present at the hearing, flanked by his two lawyers, with evidence based predominantly on email correspondance between the rider and Mertens used to accuse him of using performance enhancing drugs.
However, the evidence doesn't specifically relate to use of ozone therapy, which other riders linked to Mertens have been investigated for, rather he is accused of improper use of the drugs Diprophos and Vaminolact.
Diprophos, a corticosteroid, is not banned for out-of-competition use and can be used is a rider provides a valid medical certificate, which Van Avermaet's lawyers said he had been given to treat a heel injury.
Likewise Vaminolact, an infant medication, can be used if not injected, with the Belgian's defence claiming he was given a prescription for the substance but never exchanged it at a pharmacy.
The email evidence relates to converstaions between Van Avermaet and Mertens between November 2009 and late 2012, specifically to the use of the drugs three days before the 2012 Tour of Flanders, where he finished fourth and at Brabantse Pijl the same year, where he finished fifth.
Van Avermaet's BMC team responded to the news of the hearing with a short statement on Thursday afternoon.
"The BMC Racing Team is aware of today's hearing by the Belgian Cycling Federation, Koninklijke Belgische Wielrijdersbond, in which Greg Van Avermaet appeared in relation to the investigation of Dr. Chris Mertens," the statement read.
"Based on information currently available to the BMC Racing Team, Van Avermaet will not be withheld from competition."
"No further statements about the case will be made by team officials prior to a decision being rendered by the Belgian Cycling Federation on May 7."
Dr Mertens continues to be the focus of a substantial investigation by the federation, after being linked to a list of 19 athletes potentially treated with ozone therapy. Most of the athletes are reportedly notable Belgian cycling and cyclo-cross riders, including the likes of Tom Meeusen.
Thank you for reading 5 articles this month* Join now for unlimited access
Enjoy your first month for just £1 / $1 / €1
*Read 5 free articles per month without a subscription
Join now for unlimited access
Try first month for just £1 / $1 / €1