Greg Van Avermaet: I'm a clean rider
BMC's Van Avermaet will have a hearing before Belgian Cycling Federation over connections with Dr Chris Mertens, who is under investigation for providing ozone treatment to athletes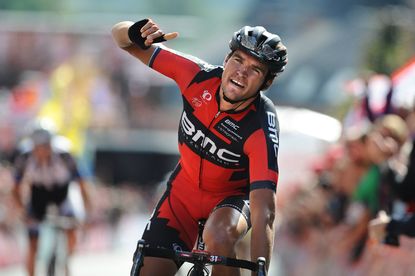 (Image credit: Graham Watson)
Greg Van Avermaet (BMC) says he is not worried about having to appear in front of the Disciplinary Commission of the Belgian Cycling Federation over links to alleged ozone therapy doctor, Chris Mertens, insisting that he is "clean and pure rider."
The news broke about the Classics specialist's connection to Mertens on Saturday morning, with Belgian newspaper Het Nieuwsblad publishing the story ahead of its own race, Omloop Het Nieuwsblad, which ran later that day.
Van Avermaet's BMC team allowed him to start the race, where he finished sixth, despite only receiving the news that the 29-year-old would have to be questioned by the Commission the day before.
The Belgian didn't try and hide from the media before or after the race, admitting that while he did see Dr Mertens, he at no point used any kind of performance enhancement.
"I'm innocent," he said at the start, "I am a clean and pure rider. I haven't done anything that was not allowed so I'm not worried."
"I was a patient with Doctor Mertens," he also told the media. "I'm going to explain myself to the federation, why I was there. I don't have anything to blame myself for. I'm going to give my explanation and then all will be behind me."
Van Avermaet's implication in the case comes as the Belgian Cycling Federation continues to investigate Mertens and a list of 19 athletes potentially treated with ozone therapy. Most of the names are reportedly notable Belgian cycling and cyclo-cross riders, with the likes of Tom Meeusen continuing to come under heavy scrutiny.
BMC were quick to release a statement on Saturday that acknowledged the news, while also confirming they would be continuing with an internal investigation of their own.
"The team has been aware of the investigation of Dr Mertens from various stories published in the press," the statement read, "but until Friday, February 27, had not confirmed that one of the team's riders would be required to appear.
"An ongoing internal investigation is being conducted by the team, and at the present time, no information has been obtained that indicates rules have been violated.
"The team is aware that Van Avermaet was treated by Dr Mertens, but is unaware of any treatments that would be in violation of any rules. Based on the information available to the Team at the present time, no decision has been made to remove Van Avermaet from active status."
Van Avermaet's hearing with the Commission is currently scheduled for March 13, meaning he may have to miss Tirreno-Adriatico, which he was originally scheduled to ride. BMC are yet to state any changes to Van Avermaet's programme, but missing the week-long stage race could hamper his build-up to Milan-San Remo.
Thank you for reading 20 articles this month* Join now for unlimited access
Enjoy your first month for just £1 / $1 / €1
*Read 5 free articles per month without a subscription
Join now for unlimited access
Try first month for just £1 / $1 / €1