Mavic Haute Route Rockies 2018 route unveiled: over 15,000 metres of climbing
Second edition of the seven-day Mavic Haute Route Rockies starts on June 23 in Boulder, Colorado, and takes in 850 kilometres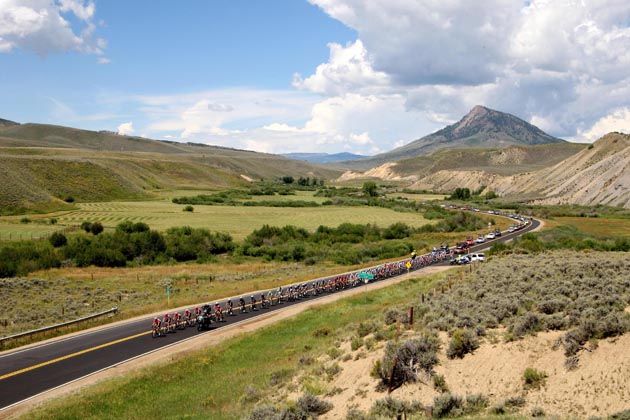 (Image credit: Yuzuru Sunada)
The second edition of the Mavic Haute Route Rockies takes in over 15,000 metres (50,000 feet) of climbing along its 850km (528 mile) route.
Boulder, Colorado, hosts the start of the seven-day ride on June 23 2018 which finishes in Colorado Springs, Olympic City USA.
The course includes a mammoth climb to over 4,200 metres (14,000 feet) at the summit of Pike's Peak-America's Mountain on the final stage, which is one of only two paved roads that reaches that elevation in the USA.
Also tackled during the week are the Left Hand Canyon on stage one, Sugarloaf on stage two and Trough Road on stage three. After an uphill time trial in Avon on stage four, riders will head over Battle Mountain on stage five before conquering Hoosier Pass as the fourth and final climb on stage six.
Micah Rice, Head of Operations for Haute Route North America said: "The second edition of Mavic Haute Route Rockies promises to be unforgettable, with breathtaking scenery and iconic climbs.
"As promised, we have eliminated all gravel sections and have kept only a few hard-packed dirt sections easily ridden on a road bike. These sections will showcase some of Colorado's most memorable landmarks, enhancing the riders' experience.
"We planned the route to make it easier for riders to recover after long days on the bike with two nights each in Boulder, Avon and Breckenridge."
>>> Haute Route cycling events expand into Norway
As with other Haute Route events, those taking part will be treated as if they were a professional rider, with full support on and off the bike.
Haute Route North America Chairman Alain Lambert said: "Building on the success of last year's inaugural US event, our Haute Route team has carefully planned the second edition of the Mavic Haute Route Rockies. The 2018 event truly has all the hallmarks of a great Haute Route.
"As an amateur cyclist myself who has ridden multiple seven-day Haute Route events, including the first edition of the Mavic Haute Route Rockies, I can state the 2018 edition will test cyclists of all levels and take their breath away with the quality of the parcours designed by our team."
Several levels of accommodation packages are available for riders tackling the event. Online entry is available now via the Haute Route website and the site also gives you more information on each stage.
Mavic Haute Route Rockies 2018 route
Stage one, Saturday June 23, Boulder to Boulder 112.5km (69.9 miles)
Stage two, Sunday June 24, Boulder to Winter Park 143.7km (89.3 miles)
Stage three, Monday June 25, Winter Park to Avon 152.5km (94.8 miles)
Stage four, Tuesday June 26, Avon Time Trial 15.4km (9.6 miles)
Stage five, Wednesday June 27, Avon to Breckenridge 151.4km (94.1 miles)
Stage six, Thursday June 28, Breckenridge to Breckenridge 182.5km (113.4 miles)
Stage seven, Friday June 29, Woodland Park to Colorado Springs 91.2km (56.7 miles)