90% of people would back ban on cyclists wearing headphones, says poll
A BBC poll has found nine in ten people support a ban on cyclist wearing headphones whilst riding, while one in six admit doing it.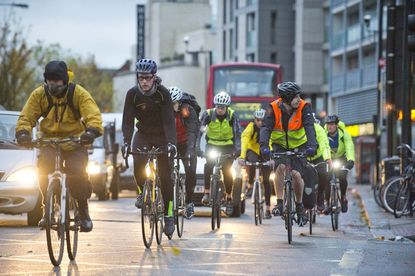 (Image credit: rupert fowler)
The poll, part of a cycle safety series running this week on BBC Breakfast (opens in new tab), found 89% of people would back a ban on wearing headphones whilst cycling due to the effects on concentration levels.
Research by Brunel University found listening to music reduces the amount of attention available by around 10%, making you less aware of potential risks around you.
One cyclist told the BBC: "I'm not actually listening to music. It's if I get a phone call... I can hear you perfectly well with these."
Another cyclist said: "It's not the safest thing you can do when you're cycling... It gets very boring if you're commuting a long way in the morning and then again the afternoon, so you've got to live with it."
Mayor of London Boris Johnson has previously spoken out about cyclist wearing headphones, saying he "would not be against" a ban on wearing headphones whilst cycling.
Some states in America have already put a ban in place for cyclists wearing headphones, such as Florida, where the law states: "A bicyclist may not wear a headset, headphone, or other listening device other than a hearing aid when riding."
Veolia, one of the UK's largest fleet operators, are to put audible and visual warnings on over 3,000 of its
'Hard-hitting' campaign to increase awareness of cycle safety called for
Advertising Standards Authority bans road safety campaign advert by Cycling Scotland due to helmetless rider, branding it 'irresponsible'
In less than 48 hours, 20,000 sign online 'Save our Cyclists' petition in wake of five London cyclist fatalities in
Thank you for reading 5 articles this month* Join now for unlimited access
Enjoy your first month for just £1 / $1 / €1
*Read 5 free articles per month without a subscription
Join now for unlimited access
Try first month for just £1 / $1 / €1