Heras crowned world champion*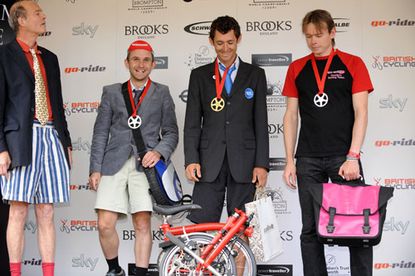 After last year's podium upset, triple Vuelta a Espana winner Robert Heras eventually clinched the one title he's always dreamed of winning - the Brompton World Championship.
Heras travelled over from Spain to the Brompton champs, held at Bike Blenheim Palace on Sunday, complete with dashing suit and flowery helmet.
The Spaniard dashed to his bike during the race's Le Mans-style running start, before quickly assembling his folder and blasting around the closed road circuit course around the grounds of the Oxfordshire stately home. Heras headed a field of around 400 riders to take the win.
Read more: Best folding bikes: a buyer's guide
Last year's surprise winner Alastair Kay was third, with the morning's Blenheim time trial champion Michael Hutchinson swapping skinsuit for fetching green jacket to take second place. Hutchinson is rumoured to be 'gutted' not to have taken the title.
In 2008 Britain's Kay pipped Heras to the win, which stunned the Spaniard causing him to query the results with officials on the podium. The result stood.
The Brompton World Championship was first held in Barcelona, Spain, in 2006, and have been held at Blenheim Palace, Oxfordshire, since 2008.
Results
Bike Blenheim Palace 2009: Brompton World Championships
1. Roberto Heras
2. Michael Hutchinson
3. Alastair Kay
Brompton champions (l-r): Alastair Kay (third), Roberto Heras (winner), Michael Hutchinson (second)
The riders await the Le Mans-style running start
Michael Hutchinson during the champs. Or on the way back from his gentleman's club, we're not sure which
Alastair Kay: last year's winner was third
Roberto Heras in action
Related links
Hutchinson wins Blenheim Palace TT
Thank you for reading 10 articles this month* Join now for unlimited access
Enjoy your first month for just £1 / $1 / €1
*Read 5 free articles per month without a subscription
Join now for unlimited access
Try first month for just £1 / $1 / €1