Here's your chance to become a professional rider
BIKE Channel will offer amateur cyclists the chance to join the ranks of professional racers on their Bike Channel Canyon team in a new original show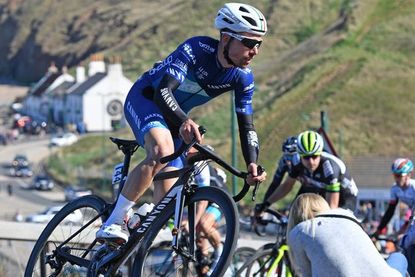 All things bicycling TV channel, BIKE Channel, will be offering one lucky amateur cyclist the chance to join the Bike Channel Canyon professional racing team in their new show The Coach PRO.
Move over the X Factor, cycling's got its very own televised talent search show. However, unlike the X Factor, The Coach PRO will see just two riders be pitted against one another to be crowned BIKE Channel's UK ambassador and even get the chance to race professionally with the Bike Channel Canyon racing team.
You and another rider will be given a 10 week training programme overseen by former professionals in Rob Hayles and Brian Smith. Everything from nutrition to race tactics and everything in between will be scrutinised as riders take on rigorous fitness tests and huge hill climbs.
Contestants will take part events with their potential future Bike Channel Canyon team-mates. The experience won't be far flung from what Chris Froome and co live according to BIKE Channel Canyon manager, Tim Elverson.
"This is an incredible opportunity for aspiring cyclists to learn about what it takes to be a professional in the sport" he says.
The winner will be crowned after the two finalists form their own teams with three Bike Channel Canyon team riders each and win the Revolve 24. The gruelling relay race will see the four members of each team ride for 24 hours around Brands Hatch's 2.4 mile circuit and whoever crosses the line first after the time is up wins.
Apart from a sore rear, the winner will take home a Grand Tour-winning, custom painted, Canyon Aeroad CF SLX Bike and the possibility to join the ranks of the Bike Channel Canyon team if they impress enough.
You can apply for the show via the form below:
The Coach PRO will air this summer with the finale taking place at Revolve 24 on the 16th-17th of September.
Thank you for reading 10 articles this month* Join now for unlimited access
Enjoy your first month for just £1 / $1 / €1
*Read 5 free articles per month without a subscription
Join now for unlimited access
Try first month for just £1 / $1 / €1