How Peter Sagan's coach helped to unlock the world champion's amazing talent
How do you improve a talent as formidable and all-conquering as Peter Sagan? Nick Busca asks the Slovak sensation's coach, Patxi Vila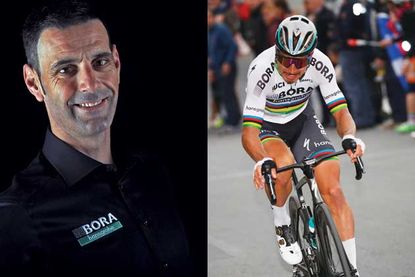 Patxi Vila Errandonea, 42, is the sports director and coach for the Bora-Hansgrohe pro cycling team. Since 2015, he has been personally responsible for setting Peter Sagan's training schedule. Vila has been credited as the man responsible for fully unlocking the Slovak's phenomenal talent.
Consider the evidence: since he began working with Vila, Sagan has won three World Championships (2015, 2016 and 2017), two green jerseys at the Tour de France, the Tour of Flanders (2016) and many, many other races.
Born in Bera de Bidasoa, Navarra, in northern Spain, Vila became a professional cyclist and rode with the Spanish team iBanesto.com in 2001 and 2002, before signing for Italian team Lampre in 2003.
In 2006 he won stage two of Paris-Nice and finished second overall. In 2008, after testing positive for testosterone, he was disqualified from racing for 18 months. He retired in 2012 and joined Tinkoff-Saxo as sports director in 2015.
CW: When did you start coaching Sagan?
Patxi Vila: We started working together after the Classics of 2015, so almost three years ago. I was already sports director and coach at Tinkoff and already coaching three of the team's riders. After the Classics, the team asked me to coach Peter and I accepted.
At that time, what were Sagan's main limitations, the areas you worked on most?
When you start coaching a guy who's already able to win 25 races in one year, you know he's doing something right already. My first task was to listen and try to understand him better. I didn't want to reinvent him because he already knew how to win.
Every pro rider has some very good points, and you have to figure out what they are. You have to get to the core of the rider and understand what he's really good at. Then you have to keep that alive, and only later start working on the things that are not working so well.
In Peter's case, he doesn't really need much of a structure to his training, which is uncommon. Of course he needs some structure, as we all do, but you have to listen to him a lot. That is one of his biggest strengths: the feedback he gives is perfect. When he tells you, "Yeah, I feel this, this and that", then that is really what is happening.
>>> Peter Sagan's training secrets: A week in the life of the triple world champion
What has impressed you most while working with him?
There are a few uncommon things about Peter. The first is his capacity to understand his body and to know what he needs, whether that's resting, or training more, or doing more strength workouts. That makes it easy, because he tells you what he needs. The other thing is that he really needs to be fresh before a race. If he trains too much or races too much and he's not fresh, he'll still get a [decent] result, but probably not a super one.
What is it like coaching someone who has such a strong personality and character?
It's hard. The bigger the rider, the more personality they have, normally.
Before any movement you make, you have to think about it and be sure about it. With Peter, you always need to have the answers ready, because he will ask, for sure. The thing with Peter is that you have to be ready to answer 24/7. It's like that. He really asks a lot and wants to know, and that's the reason why he's a big champion.
He's also trying to make history — as he did with the third World Championship title — and trying to get to perfection in racing. We probably have the same character, and that's perhaps why sometimes he pisses me off big-time and why I probably do the same to him. It's not always easy between us, let's put it that way.
How quickly did Peter respond to your coaching? How long before he was getting consistent results?
At the beginning I was just listening to him and giving very generic training, but the first goal was the 2015 World Championship in road race in Richmond [Virginia — Sagan won following a solo attack 13km from the finish]. We started working in April, giving us six months. The last part of that season was already like, "OK, now we are really working together and I understand how to help him".
Does he train according to power, or mostly on feel?
He looks to power when it's needed, like in intervals or sprints. I think power is a great, great tool, but you have to be sensitive and know how to use it. There are probably just three days out of the whole week when you need power. The rest, you don't need it. It's nice information for the coach, but I don't think that the rider needs to look at numbers.
That is the way we work. An endurance ride is just that, an endurance ride; it's not about going between 250 and 300 watts for five hours. I look much more to the physiological values [heart rate] than to power.
Also, cycling power meters are not precise. They're working on four-hertz frequency. If you speak with people from F1, MotoGP or America's Cup, they're working on minimum 60Hz, and that's the amount of information you need if you want to be scientific.
>>> Peter Sagan reveals his opening race for the 2018 season
Does Peter follow a specific nutrition plan?
Not really. He has good nutrition, but he doesn't really need to focus on it specifically. He eats the right stuff and the right amount, but he's not weighing everything. The team has a nutritionist and all the products are good, but that's it.
How do you devise his annual training plan?
At the moment we have three peaks: Classics, Tour and World Champs. The Classics peak starts from Milan-San Remo and lasts through to Paris-Roubaix. For the Tour, we try to peak there, and for the Worlds we try to peak at two races in Canada [Grand Prix Cycliste de Québec and Grand Prix Cycliste de Montréal] and then the Worlds.
What periodisation do you use?
Normally from November 15 until the Tour Down Under is our base period, then after the Down Under we begin training blocks working on intensity and speed before the Classics. February is the biggest training month of the year for us, when weekly volume peaks at 32-35 hours, usually in the third week of February.
>>> Peter Sagan says fourth consecutive world title 'not impossible' despite mountainous 2018 course
How do you approach the transition from the Classics to the Tour?
After the Classics we stop completely for four to six days, and then we resume with strength training, mountain biking and trying to refresh not only his body but also his mind. This usually lasts one or two weeks, so it's about three weeks of transition, then we go back to normal training.
The biggest change from the Classics to the Tour is more climbing. In May we go to the Tour of California, which is our first target to see where we are, and to see what we need to change, if anything. California is the race to understand how the work for the second peak is going.
How does training change for the Worlds?
This year [after Sagan's disqualification from the Tour], we had more time to work for the World Champs and not so much rush. Normally after the Tour, needing to rest and then train for the Worlds, time is tight. So this year was much easier. When you're coming from the Tour and going to Canada [for the Grand Prix Cycliste de Québec and Grand Prix Cycliste de Montréal], when you need to be really good, it is not easy.
How have you made Peter such a fast finisher?
I don't think Peter is a fast guy. He can be fast, but he's not naturally fast. He needs that skill, because at the end of the race he needs to be fast to win — but it's not because he's naturally fast.
We get his speed through his freshness and his strength — getting to the finish fresh and being faster than the fast guys. He wins not because he's faster but because he's fresher. He's very similar in terms of characteristics to Tom Boonen: at the beginning of his career, he was able to win bunch sprints, but then he focused more on endurance. I really look to Tom's career to try to understand where we can go with Peter.
You mention strength — how important is that?
The strength we try to have at the beginning of the year, but also try to keep it consistent all year. Of course we do more strength work from November until February, twice or three times a week, but after that only once a week.
Does Peter do high-intensity work pre-competition?
Yes. Even before big events, there is always some high intensity, but not very much. You always need something, but not a lot. It's mostly short intervals from one to three minutes: short stimulus with a lot of recovery, but pretty high stimulus.
You've been involved in cycling for more than 20 years. How has doping culture and the science of cycling evolved, in your experience?
Thank God, this new generation of athletes I'm working with don't even speak about doping. You will always have that one per cent who think about cheating and will still do it, but overall the whole community has been working hard to fix it. My feeling is that we are at a very good point and that doping is not in the mind of most riders anymore.
We know much more about the science of cycling than in the past, even though we still have a lot to learn. At the same time, many riders don't know much about cycling because they're obsessed with numbers and information coming from outside and they don't really listen to their bodies. That is something we have to fix, because we are losing part of the culture of cycling and what it means to be a rider.
Perhaps there is too much science; I'm trying to get back to the roots of cycling, which we mustn't lose. We can predict the time on a TT or a climb, and get really, really close, but the riders — most of the time — don't really know what they're doing, what they're feeling, what's going on in their bodies. [Ed: Vila and Bora-Hansgrohe declined to comment on Vila's own doping sanction from 2008]
How would you plan a training season for a keen UK amateur rider?
Of course it all depends on the target. But being in the UK, with the weather, I would suggest to flip it around a bit. If you want to start your preparation in December, hold back on volume until the spring so you don't need to be riding in pouring rain for hours.
Just try to flip it around: schedule the intensity for December and January, and move into the base and the endurance to when the weather is getting a little bit better and there is more daylight. That way, you can ride your bike better.
>>> Mario Cipollini berates 'boring' races where Chris Froome and Peter Sagan dominate
As for strength work, that's something you can do almost anywhere. If you don't maintain strength, then your power will go down.
Bear in mind that if you're able to use a higher quantity of muscle fibres — 90 per cent, say, instead of 80 per cent — that will increase all your values.
Hit the gym hard because that's part of cycling, specifically if you want to deliver those watts at high cadence. If you don't have the right neuromuscular connection and strength, you won't be able to deliver that power.
My riders are going to the gym all year, even if it's only once a week. We don't build bigger muscles, but we use them better to create power efficiently.
Thank you for reading 20 articles this month* Join now for unlimited access
Enjoy your first month for just £1 / $1 / €1
*Read 5 free articles per month without a subscription
Join now for unlimited access
Try first month for just £1 / $1 / €1