HTC sponsor Smithfield Nocturne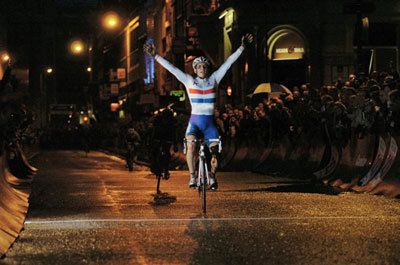 Mobile handset manufacturer HTC has been announced as title sponsor for the 2010 Smithfield Nocturne event on June 19.
The fourth running of the Smithfield Nocturne takes place on Saturday, June 19, in and around historic Smithfield market in the City of London. 
The event includes a star-studded elite criterium, City of London team challenge, folding bike race, fixed longest skid event and much more to entertain the 10,000-plus spectators. Entry is completely free.
"Cycling is the perfect sport to align with the values of the HTC brand," says Florian Seiche, Vice President, HTC EMEA.
"We are pleased to be able to be able to support such an innovative festival of cycling which celebrates both the high performance of the elite competitors as well as the more fun and friendly aspects of the sport." 
It's not the mobile company's first foray into cycle sponsorship by any means. HTC are currently one of the title sponsors of the US-based HTC-Columbia team, home of British sprinter Mark Cavendish.
"HTC is an exciting brand which will help us make the 2010 Smithfield Nocturne the most exciting event to date," said James Pope, managing director of event organisers Face Partnership.
"We are looking forward to working together to enhance the spectator experience and bring some top riders to the streets of the City of London."
In addition to the London date, two further Nocturne events are scheduled for 2010: Edinburgh (July 3) and Blackpool (August 7).
Related links
Smithfield Nocturne kicks off London Festival of Architecture
External link