Hundreds of employees evacuated as fire rips through Shimano factory and headquarters in Japan
20 fire engines needed to tackle the blaze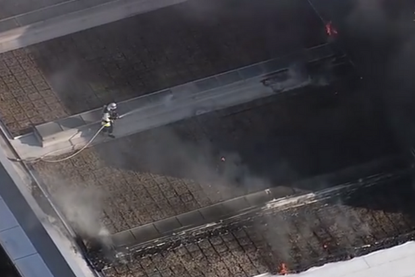 200 employees had to be evacuated as a fire ripped through a manufacturing facility at Shimano's headquarters in Japan on Monday.
According to Japanese newspaper Asahi Shimbun, the fire started at around 1.45pm local time (5.45am BST) and appears to have started in an area of the factory where components are anodised to prevent them suffering corrosion and wear.
20 fire engines attended the scene in the Sakai-ku area of the city of Sakai, to the south of Osaka, with 200 employees being evacuated from the manufacturing facility and company headquarters, which are located on the same site. Thankfully, there have been no injuries.
>>> Shimano Dura-Ace Di2 v SRAM eTap: Everything you need to know
With the blaze now under control, authorities are working to establish the cause of the fire. Early reports suggested that there had been several loud bangs before the fire had broken out and that it could have been started by an electrical fault, quickly spreading to the height of the five-floor factory with fire fighters standing on the roof in an attempt to tackle the fire.
As well as being Shimano's global headquarters, the Sakai facility is responsible for much of the component company's research and development, with the majority of the production being carried out at larger factories in China, Malaysia, the Philippines and Singapore.
>>> Could a 12-speed groupset be coming from Campagnolo?
The largest component company in cycling, Shimano's reputation rests on its popular range of groupset, with the top-end Dura-Ace groupset being found on the majority of pros' bikes, while groupsets lower down the range such as Ultegra, 105, and Tiagra are almost ubiquitous on amateurs' bikes.
The company has introduced a number of major updates to its groupsets in the last couple of years, with Dura-Ace and Ultegra having received overhauls in the last two years, and further updates expected to other models in the ranges later this year if the company's four-year product cycle continues.
Thank you for reading 20 articles this month* Join now for unlimited access
Enjoy your first month for just £1 / $1 / €1
*Read 5 free articles per month without a subscription
Join now for unlimited access
Try first month for just £1 / $1 / €1