Irish government to introduce new law making close passes illegal
Drivers face €80 fine for passing too close to cyclists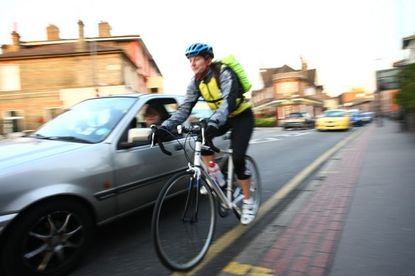 (Image credit: Grant Robinson)
Cyclists in the Republic of Ireland will soon have the protection of a new law which will bring in a minimum passing distance and make close passes illegal.
The move, which was confirmed by Shane Ross T.D., Minister for Transport, Tourism and Sport, on Wednesday, comes at the end of a lengthy campaign by cycling campaigners and road safety groups, in particular the "Stayin' Alive at 1.5" group which concentrated on this one particular issue.
The new regulations will need to be approved by the Irish Attorney General before they can be implemented, and will see a minimum passing distance (MPD) of one metre on roads with a speed limit of 50kmh (31mph) or less and a MPD of 1.5 metres on roads with a speed limit of more than 50kmh.
>>> Watch: 'Shocking' close pass of cyclist by speeding driver ends with prosecution
The decision came on the same day that the Road Safety Authority issued a report saying that there was little conclusive evidence that legislating on close passes had any effect on cyclists' safety, instead recommending better education and information for drivers.
However Ross said that although he recognised the findings of the report, he thought that introducing a minimum passing distance would help to raise awareness of the issue among non-cyclists.
Watch: Modern vs Retro road bike
http://www.youtube.com/watch?v=4TSyGLv-evM
"I have been extremely concerned about the rise in cyclists fatalities on our roads," Ross said. In 2017, there were 15 cyclists killed, which was a 50% increase on 2016. Clearly this is an intolerable situation which has to change.
"Every life lost on our roads is a tragedy and as Minister for Transport, I am committed to do everything within my power to prevent preventable road deaths."
>>> Increase in Scotland's bike use is 'start of a cycling revolution'
The regulations will only be introduced once the Garda are equipped with the technology required to measure close passes, with the effectiveness of the new rules being assessed after 12 months.
Drivers who are caught passing too close to cyclists will face an €80 (£70) fine and three points on their licence.
Thank you for reading 20 articles this month* Join now for unlimited access
Enjoy your first month for just £1 / $1 / €1
*Read 5 free articles per month without a subscription
Join now for unlimited access
Try first month for just £1 / $1 / €1