Jack Bobridge: From enfant terrible to Tour Down Under leader
The Australian's victory in the Tour Down Under gives a reminder why he was once considered such a unique talent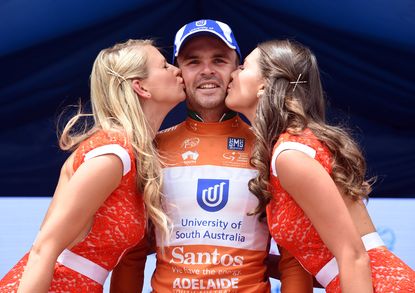 (Image credit: Graham Watson)
It was Back to the Future on day one of the Tour Down Under. Jack Bobridge, once the enfant terrible of Australian cycling, wound back the clock on his local roads, following an attack in the first few kilometres, scrapping for sprints and hill primes with three breakaway companions, then finding the strength to attack and hold on for an unlikely win.
Few will have seen that coming. A few years ago, maybe. But Bobridge's career has burned brightly, spluttered, seemed on the verge of being extinguished, only to reignite on Tuesday.
He has been to Europe, won an under-23 world title, struggled to settle in three top teams, been diagnosed with rheumatoid arthritis, been in trouble for drink driving, and then, at the end of last season, he lost his place in his European team, Belkin.
Now he is back home, a new father, riding for a small squad, Team Budget Forklifts. But he is clearly the same Bobridge: his victory in Campbelltown owed everything to aggression, heart and guts.
Riding as part of the wildcard University of South Australia team, he looked in trouble on the ascent of Checker Hill, close to the finish, sliding forward on the saddle, grovelling, yelling at his companions to keep it together. "His body language says that he's just about finished," said Robbie McEwen, "but he'll keep going and going."
Amazingly, this was Bobridge's first stage win at the Tour Down Under. That it would take him so long would have been unimaginable in 2009, when he burst on to the scene as a 19-year-old. He was strong and fearless, attacking every day, and catching the eye of Lance Armstrong, in his comeback race, who tweeted: "For all you cycling fans – remember the name Jack Bobridge. His future's bright."
Later that same year Bobridge won his world under-23 time trial title in Mendrisio – a championship better known in Australia for Cadel Evans' victory in the road race. Then there was a stage of the Eneco Tour in 2010, the Australian road title in 2011. His Garmin team manager Jonathan Vaughters called him "possibly the most talented rider of his generation."
From Garmin he went to GreenEdge when the Australian team launched in 2012 – a logical move. But Bobridge's career seemed to hit the buffers. He was targeting the team pursuit at the London Olympics but five weeks before the Games he was in trouble for drink driving in Spain.
Bobridge was with another member of the team pursuit squad, Michael Hepburn, when their vehicle suffered a minor collision in a car park in Catalonia. Bobridge was fined and banned from driving for eight months. Graham Fredericks, the Cycling Australia chief executive, said he had been "reckless and irresponsible."
At the Olympic Games Bobridge and his Australian team finished second to Great Britain. It was time for Bobridge to re-boot his career. Time to "grow up," he said, and leave an Australian set-up that had become "a comfort zone."
He moved to the Dutch Blanco team, formerly Rabobank and later Belkin, and then revealed that he suffered from rheumatoid arthritis. It put a new perspective on his problems, and apparent lack of progress – the condition had been diagnosed as far back as 2010.
"Training was nearly unbearable and I was constantly sleeping because my body was so worn out," he told his local newspaper, the Adelaide Advertiser. Methotrexate medication helped him manage the effects, he said. "Most of the time you don't know you have it. For some reason there are random days where it does flare up and is quite painful."
Although it is degenerative, Bobridge seemed confident that it wouldn't derail his career. He was only 20, after all, when it was diagnosed. He is only 25 now. Ordinarily, he would have his best years ahead of him. But with Bobridge, it is hard to tell.
Now he is embarking on a similar path to Bradley Wiggins – stepping a couple of rungs down the ladder to target the track and the 2016 Olympic Games, with a bid for the hour record en route. But Wiggins is 34, nine years older than Bobridge.
McEwen, the former sprinter who is proving a revelation in the commentary box, noted of Bobridge that, "What he can do most is hurt himself, really suffer," and that ability could and arguably should see him break Matthias Brändle's hour record when he tackles it at the end of this month.
That ability to suffer is also what allowed Bobridge to win stage one of the Tour Down Under and end the day in the overall leader's jersey, points jersey and king of the mountains jersey. Not for the first time in his career, he was also named the stage's 'most competitive rider'. It shouldn't be the last.
Thank you for reading 20 articles this month* Join now for unlimited access
Enjoy your first month for just £1 / $1 / €1
*Read 5 free articles per month without a subscription
Join now for unlimited access
Try first month for just £1 / $1 / €1