Jan Ullrich faces new assault allegations after incident in airport
The German Tour de France winner has been at the centre of a number of allegations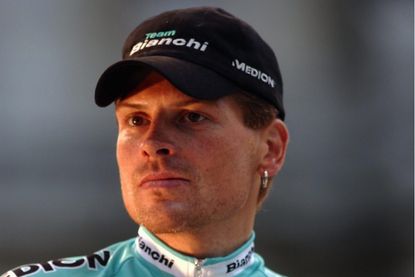 (Image credit: Watson)
The German Tour de France winner Jan Ullrich is facing fresh allegations of assault.
Ullrich allegedly hit a 34-year-old man in the security check area of Hamburg Airport on Tuesday.
According to reports, police have said 44-year-old Ullrich "suddenly assaulted" the man.
A police spokesperson told German news agency SID that new accusations against Ullrich had surfaced.
He was reportedly flying to the United States via London.
>>>Lance Armstrong thinks David Millar is the 'last person' who should lead the cyclists' union
Ullrich was arrested in August for allegedly assaulting a sex worker while staying at a hotel in Frankfurt.
Police said Ullrich was under the influence of drugs and alcohol at the time of the alleged incident in Frankfurt.
A court in Palma recently issued a restraining order against the German ex-pro after he jumped over the fence of his neighbour, the actor and film director Til Schweiger, on Friday August 3.
Ullrich was arrested for "forceful entry and threats" but later released with a restraining order.
Ullrich said that things became violent when someone on Schweiger's property jumped at him "with a Kung Fu kick."
On his return home, Ullrich told Bild that he was receiving therapy for problems with drugs and alcohol having struggled since separating from his wife Sara.
Former American rival Lance Armstrong flew to Germany to be at Ullrich's side and offer help.
He wrote on Instagram, "Please keep Jan in all of your thoughts and prayers. He needs our support right now."
The former cyclist is the only German to have won the Tour de France. He also won the Olympic road race in Sydney in 2000.
However, he was linked in the Operación Puerto doping scandal and prohibited from racing the 2006 Tour de France.
The doctor at the centre of the ring, Eufemiano Fuentes withdrew blood from cyclists, stored the bags and transfused them back ahead of major events.
Ullrich used the code names JAN and Hijo Rudicio. He visited Fuentes in Madrid a reported 24 times from 2003 to 2006.
German Team T-Mobile fired him on July 20. He retired and never raced again.
Only in 2013, did he admit to his doping past. That same year, after he was stripped of his seven Tour de France wins, Armstrong admitted to doping in his career.
From the same era, 1998 Giro d'Italia and Tour de France winner Marco Pantani died of a cocaine overdose in 2004. He had drug problems and overdoses beforehand following problems in cycling for high hematocrit readings.
Thank you for reading 20 articles this month* Join now for unlimited access
Enjoy your first month for just £1 / $1 / €1
*Read 5 free articles per month without a subscription
Join now for unlimited access
Try first month for just £1 / $1 / €1