Jonny Bellis: former pro who made amazing comeback from life-threatening injury is now a cycling coach
Despite a promising start, Jonny Bellis's career didn't work out quite the way he'd hoped. Now the 28-year-old is forging a path to help others succeed in the sport he loves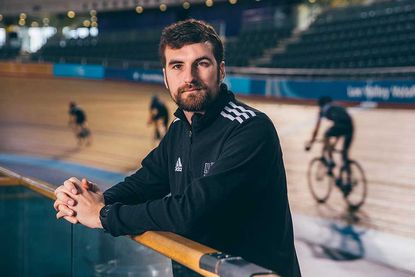 (Image credit: Daniel Gould)
Having left professional cycling and answered the call of a new vocation, Jonny Bellis is having to adjust.
Changing careers is always a challenge, but that's not all that he's having to contend with. His new coaching post at Lee Valley Velodrome took him to London, which as anyone who's set foot there for the first time knows, features a fraught ecosystem all of its own.
"You have to adapt to it at first," notes Bellis. "It's a bit different here to what it'd be in the Isle of Man... down here everybody just seems to be rushing round when they don't need to rush. You just get used to it and find yourself doing it too."
>>> British Olympian Jonny Bellis retires from professional cycling aged 27
If you're struggling to recall the 28-year-old's last major result you could be forgiven — the Manxman himself admits he was "just sort of hanging on to it" for the last year of his career — but it wasn't so long ago that his was a name on everyone's lips.
At a time when high-profile British road results weren't easy to come by, the Manxman's bronze at the 2007 Under-23 Road Worlds lifted a nation, and there was an expectation of big things to come. But a devastating scooter accident in 2009 fractured his skull and cut his career off at the knees.
Three weeks in an induced coma was followed by a gruelling recovery process and it was 10 months before he rode a bike again, a year before he raced — and things weren't the same.
>>> Lee Valley Velopark Velodrome (London)
"Physically I did come back, but I think something inside me mentally just changed and I didn't have the passion for it any more. I just wasn't driven to want to push myself that bit harder. There's only so far talent can take you and if you don't have that extra drive you're not gonna get much further," he says.
Unable to recapture his best form, Bellis eventually hung up his wheels midway through the 2015 season.
"It was a big step to go from [competing] to another thing… I just thought I enjoy helping other people and I've got a lot of experience at all levels. I know what it takes to go through the ranks so I thought it was a natural step to get into coaching," says Bellis.
>>> Bellis in critical condition after scooter accident in Italy [Sept 2009]
Having studied for his British Cycling coaching qualifications (he's now level three), he headed to London for his first full-time role at Lee Valley, where he coaches everything from track tasters to drills out on the road circuit.
One thing he doesn't do a lot of these days though, is riding: "I do bits now and then if I'm doing a road training session, if people are unsure I'll ride round for a couple of laps and once they've got to grips with what to do I'll stand on the side because I'm not fit enough to keep going round!"
Learning from the best
He is in the process of setting up his own coaching business, Belliscoaching.co.uk, where, he says, riders of all abilities will be able to benefit from some of the world's foremost coaching brains.
"As a rider I worked with the best coaches in the world. I've experienced all kinds of coaching — at Great Britain there was Simon Jones, Heiko [Salzwedel], Shane [Sutton]; at Saxo Bank Bobby Julich, Bradley McGee, Bjarne Riis... I don't think you can get much better than that. You pick up the positive aspects of their coaching — what I felt worked as a rider I employ in my coaching."
Despite his claimed lack of on-bike fitness, cycling was never something Bellis could see himself turning his back on.
"I miss just going out for a ride with a group but that's something that I'll do in the future. I don't miss travelling 100 days a year and not really having a social life.
"The good thing is that I've stopped but I'm still involved," he says. "I couldn't see myself stopping cycling and sat behind a desk in an office for the rest of my life."
Thank you for reading 20 articles this month* Join now for unlimited access
Enjoy your first month for just £1 / $1 / €1
*Read 5 free articles per month without a subscription
Join now for unlimited access
Try first month for just £1 / $1 / €1