Kaiser Chiefs: We didn't mean to upset Sturmey Archer
Indie rock band Kaiser Chiefs says it wished to pay homage to Sturmey Archer after being accused of 'stealing' the cycle manufacturer's logo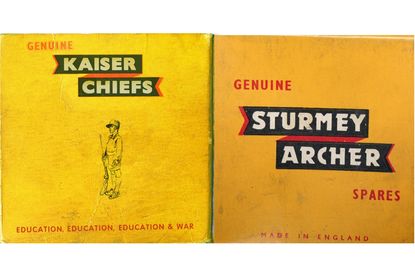 Leeds Indie rock band Kaiser Chiefs have responded to the accusation that they 'blatantly copied' their new album cover artwork from packaging made by bicycle component manufacturer Sturmey Archer.
"The lyrics of our new album Education, Education, Education & War look into Britain's past and our designer has deliberately created artwork that references Britain's Heritage," they told music magazine NME via a statement.
"We hoped to pay homage to the legacy of Sturmey Archer and by using this design we did not expect, nor did we intend to upset them."
Sturmey Archer general manager Alan Clark said on Wednesday: "I have worked for the company for more than 40 years and I have never known anything quite as blatant as this. We are used to this sort of thing from backstreet suppliers but did not expect it from such a big band. They did not even contact us up front and they have not responded to questions posed since we were alerted by customers."
Three-speed gear hub for fixed wheel bikes, priced £249
£249.95
Thank you for reading 5 articles this month* Join now for unlimited access
Enjoy your first month for just £1 / $1 / €1
*Read 5 free articles per month without a subscription
Join now for unlimited access
Try first month for just £1 / $1 / €1