Lance Armstrong says Uber investment 'saved his family'
The disgraced Tour de France winner has revealed how a $100,000 investment impacted his life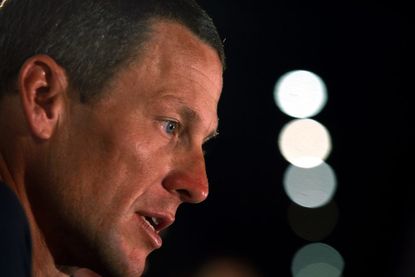 (Image credit: Yuzuru Sunada)
Lance Armstrong thanks an investment in Uber for "saving his family" when he was under fire to pay legal settlements for doping.
An investigation in 2012 showed Armstrong cheated for much of his career. He was given a lifetime ban and stripped of results, including his seven Tour de France victories.
Amstrong has now revealed an investment in the popular ride-sharing app Uber helped when facing huge legal fees and settlements.
"It's saved our family," Armstrong told CNBC of his earnings from Uber.
"It's too good to be true."
He invested $100,000 (£78,000) in the firm.
>>> Floyd Landis says cycling is not clean in post-Armstrong era
The show host asked him how much he earned: "A ballpark… 10, 20, 30, 40, $50 million?"
Armstrong replied, "It's one of those. It's a lot. It's a lot."
Earlier this year, the 47-year-old Texan and former world champion reached a settlement in a whistle blower case that had dragged on for years.
He faced paying a part of $100 million, but settled for $5 million with the US Federal government.
The government had said he and the team defrauded taxpayers using U.S. Postal Service sponsorship money, $32.3 million from 1996 to 2004, to dope and win races.
Armstrong also settled other lawsuits over the last six years with parties including Sunday Times (around £1m), Acceptance Insurance (part of a $3m suit), and SCA Promotions ($10m). He estimated there have been around 10 settlements so far with the whistle blower case.
"Once you total up all of it, loss of guaranteed income, legal fees and settlements, it came to 111 million bucks," Armstrong said. "I didn't feel like I got off easy."
>>> Lance Armstrong's former manager Johan Bruyneel banned from cycling for life
Prior to his 2009 comeback and before he admitted to doping, he made an investment in a venture capital fund involving Uber.
"[Chris Sacca] left to start his own venture capital fund called Lowercase Capital and he called me and said, 'Looking for investors. Would you invest?'" Armstrong said.
"So I invested in Chris Sacca. I didn't even know that he did Uber. I thought he was buying up a bunch of Twitter shares from employees or former employees and the biggest investment in Lowercase was Uber."
Armstrong also spoke about his career and the aftermath of the doping case that showed he used EPO, testosterone and blood transfusions starting in the mid-1990s.
During the case and after he admitted to cheating, sponsors dropped their contracts with him. He criticised Nike's "double standard" when compared to golfer Tiger Woods and baseball player Alex Rodriguez.
"I do think there's a double standard. But I'm okay with it," he explained. A-Rod [Rodriguez] didn't raise half a billion dollars and try to save a bunch of people's lives. I mean, that's kind of the irony in this. But, A-Rod was a baseball player."
Rodriguez sat out a year for steroid use. Woods did not play while infidelity scandals and domestic problems hit the headlines. Armstrong received a lifetime ban, unlike them, and said it was Nike's reason to pull its support.
"If what happened to Tiger the next day, they said, 'Hey, buddy. I'm sorry, but we're taking all the golf clubs. You can never hit a ball every again on TV, in a tournament, ever,'" added Armstrong. "[Nike] would not have stood by him. I promise you."
Thank you for reading 20 articles this month* Join now for unlimited access
Enjoy your first month for just £1 / $1 / €1
*Read 5 free articles per month without a subscription
Join now for unlimited access
Try first month for just £1 / $1 / €1