Floyd Landis says cycling is not clean in post-Armstrong era
The former doper and stripped Tour de France winner says cycling's management needs to change.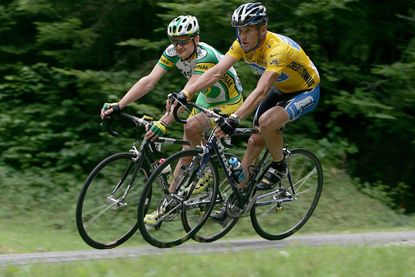 (Image credit: Yuzuru SUNADA)
Floyd Landis says he does not believe cycling is clean in the post-Lance Armstrong era.
The former doper and stripped Tour de France winner says he believes cycling's management needs to change and the World Anti-Doping Agency (WADA) should be dissolved.
Landis, who tested posted for testosterone after winning the 2006 Tour, is returning to bike racing to sponsor a North American continental development team, Floyd's of Leadville Pro Cycling.
When asked if he believes cycling is more clean than in his day, Landis told Cycling Weekly: "No of course not.
"All the evidence is there that it's not.
"It's not going to change until the management of cycling changes and until WADA is completely dissolved and a new organisation is set up that isn't beholden to the Olympic committee.
"That's the heart of the matter."
Landis recently announced he would be backing a new development team, in the hopes of nurturing young talent but also to prove his love for cycling.
The 43-year-old retired in 2011 and published a bombshell letter that detailed doping in the professional peloton, both by himself and by team-mates like Lance Armstrong.
>>> Bradley Wiggins: Lance Armstrong is iconic whether people like it or not
Since 2010, Landis had been locked in a legal battle after filing a whistleblower lawsuit accusing Armstrong of defrauding the US government by doping while sponsored by the US Postal Service.
The case was resolved earlier this year, and Armstrong paid $5million in the settlement.
As the person who brought the case before the courts, Landis was entitled to up to 25 per cent of the money – cash he is using to fund the new team.
When asked about Armstrong, Landis said: "No I haven't had any contact with him in many years, other than I've seen him at a couple of mediations that we were required to go to but we didn't speak a word to each other.
"I'm sure he resents me.
"I don't have any hard feelings towards him. I understand why he views it the way he does"
Landis added: "I hope he finds some peace and can move on.
"That kind of public humiliation kills some people.
"We've seen it happen in cycling time and time again, people end up dead.
"So the fact we're both still alive I think is a win."
Since leaving cycling, Landis set up a shop selling legal cannabis products in Colorado but will be returning as a sponsor next season.
Landis said: "There were times in the last couple of years when frankly I would have just dropped the case [against Armstrong] if I had any power to do it, but the government took over the case.
"There were times I even felt bad for Lance.
"He paid as dearly as anyone ever has for doping in cycling - or any sport - and I don't know if it's fair or not.
"I'm sure he doesn't think it is.
"At this point, I'm not even sure the entire episode accomplished anything."
Landis added: "Nobody from management in cycling ever paid.
"We gave all kinds of information on USA Cycling being involved, Jim Ochowicz, Steve Johnson the CEO, everyone knew it and was in on it and WADA just refused to do anything about it.
"They just wanted athletes, which is disappointing, so I'm glad it's over.
"I wish it had ended sooner frankly."
During the federal lawsuit claims emerged that Ochowicz, who was president of USA Cycling's board of directors from 2002 to 2008, had talked with Landis about how Landis should respond to an adverse analytical finding for testosterone during the 2006 Tour de France.
BMC Racing team, where Ochowicz has worked as general manager since 2007, declined to comment on the claims.
Steve Johnson, who stepped down as CEO of USA Cycling in 2014, was also at the centre of claims that he knew about wide-spread doping in the US Postal Service team.
The book 'Cycle of Lies' by New York Times journalist Juliet Macur alleged that US Postal rider Dave Zabriskie told Johnson about doping within the team.
Johnson denied this conversation happened.
When asked if he had any regrets, Landis said: "I haven't really sat and thought about it that way.
"Initially I wanted to keep racing my bike, and if you want to keep racing your bike in cycling you don't expose what cycling is otherwise you're never going to get another chance, so I guess if I could have stepped back at that point and thought 'look I'm probably never going to race or be in the mind-set to race anyway' I might have done something different.
"But at the time I was 31 years old and I thought I really wanted to keep racing.
"That's all I'd ever done and I think that clouded my judgement on that.
"I wouldn't say I regret, but given some hindsight obviously I would make different decisions."
Thank you for reading 20 articles this month* Join now for unlimited access
Enjoy your first month for just £1 / $1 / €1
*Read 5 free articles per month without a subscription
Join now for unlimited access
Try first month for just £1 / $1 / €1