Bradley Wiggins: Lance Armstrong is iconic whether people like it or not
The first ever British Tour de France winner has given his thoughts on the most infamous name in cycling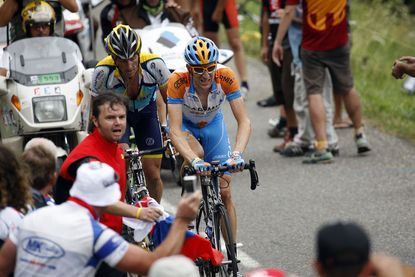 (Image credit: Yuzuru SUNADA)
Sir Bradley Wiggins said he believes Lance Armstrong is iconic whether people like it or not.
The 2012 Tour winner Wiggins added that he still speaks to Armstrong and has been in contact in recent weeks.
Speaking with talkSPORT radio host Jim White (opens in new tab), Wiggins remembers watching Armstrong win the World Championships in 1993 and being inspired to ride his bike.
>>> Floyd Landis plans to start professional cycling team
The first British Tour de France in history said: "I'm not saying he's an icon.
"Whether people like it or not he's iconic in some way, good or bad.
"For me, I can't change the way he made me feel when I was 13. It changed my life."
Armstrong's name continues to resound in the cycling world, even now six years after he was stripped of all of his seven Tour de France titles and banned from the sport for life.
The Texan won each of the Tours de France between 1999 and 2005 before retiring.
He returned to the sport in 2009.
In 2011 Armstrong retired for the last time, saying he wanted to dedicate more time to his family and the fight against cancer.
A year later, Armstrong was stripped of the Tour wins.
In 2013, Armstrong finally confessed to taking banned substances during each of his Tour wins.
Armstrong is now is podcaster, competes in triathlons and owns a bike shop in his home town of Austin, Texas.
World hour record holder Wiggins said he still speaks with Armstrong.
He said: "I know him as a person post-cycling. post what he's been through.
"I think so much goes on in the world and so many bad things, Lance has paid the price heavily for what he's done.
"Okay the sport has suffered but he wasn't alone in that."
Thank you for reading 5 articles this month* Join now for unlimited access
Enjoy your first month for just £1 / $1 / €1
*Read 5 free articles per month without a subscription
Join now for unlimited access
Try first month for just £1 / $1 / €1