Lance Armstrong's former manager Johan Bruyneel banned from cycling for life
Bruyneel had been banned from sport for 10 years, but a new ruling has stepped up the punishment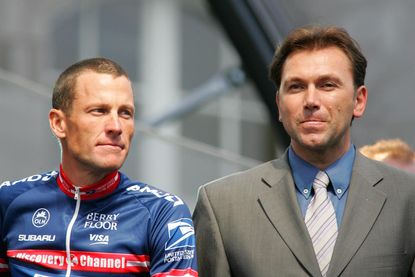 (Image credit: Yuzuru SUNADA)
Lance Armstrong's former manager Johan Bruyneel has been banned from cycling for life.
The Belgian former pro had been banned from sport for 10 years after he helped and encouraged riders to dope at the US Postal Service and Discovery Channel teams.
Bruyneel had appealed the ban, which was imposed by the American Arbitration Association (AAA) in 2012, but while considering the appeal the Court of Arbitration for Sport (CAS) ruled that Bruyneel should be banned for the rest of his life.
The court also considered appeals by US Postal team physician Pedro Celaya Lezama and trainer Jose Marti Marti.
Lezama has also been banned for life, while Marti's ban was increased to 15 years.
Responding to the news, Bruyneel posted a statement on Twitter.
>>> Floyd Landis says cycling is not clean in post-Armstrong era
He said: "I want to stress that I acknowledge and fully accept that a lot of mistakes have been made in the past.
"There are a lot of things I wish I could have done differently, and there are certain actions I now deeply regret.
"The period I lived through, both as a cyclist and as a team director, was very different than it is today."
He added: "Without going into details in this letter, I would simply like to observe that we were all children of our era, facing the pitfalls and temptations that were part of the culture at the time.
"We didn't always make the best choices."
Bruyneel refers to himself on Twitter as the "proud ex-manager of my dear friend Lance Armstrong, winner of seven Tours de France. No hypocrite."
In its case against Armstrong in 2012, the US Anti-Doping Agency (USADA) showed that the Belgian helped and encouraged his riders at teams US Postal Service and Discovery Channel to dope.
Doctor Pedro Celaya and trainer, Jose 'Pepe' Martí were banned for eight years each at the time.
Armstrong was banned from cycling for life and stripped of his seven Tour titles.
Bruyneel's ban was due to end on June 11, 2022.
The ruling by the Court of Arbitration for Sport said: "From 1997 to 2007, Messrs Bruyneel, Marti and Celaya participated in an elaborate and highly successful doping scheme with Mr Bruyneel at the apex of a multitude of doping violations and Mr Marti and Dr Celaya as the indispensable participants in this widespread and systematic doping program.
"The CAS panel unanimously concluded that in the circumstances, lifetime ineligibility was an appropriate sanction for Messrs Bruyneel and Celaya, and that period of ineligibility of 15 years was appropriate for Mr Marti."
>>> Spanish court permits release of Operation Puerto blood bags to Italian Olympic Committee
Bruyneel was informed of his lifetime ban in an email from the CAS on Wednesday afternoon.
The 54-year-old raised issue with the process in his statement.
He claims that USADA have "no jurisdiction" over him as a Belgian citizen living in Spain.
Bruyneel added: "This whole process has been a difficult, very painful and complicated learning process for myself, but after too long a time, it is now time for me to move on.
"I can finally close this chapter and focus on the positive things in my future.
"After everything that happened, and I repeat, many things I regret, I still love cycling with the same passion and intensity I had when I fell in love with it as a 14-year-old boy.
"In spite of the CAS decision, it is still my goal and my wish to contribute, to help grow my sport and make it better in the years ahead."
Thank you for reading 20 articles this month* Join now for unlimited access
Enjoy your first month for just £1 / $1 / €1
*Read 5 free articles per month without a subscription
Join now for unlimited access
Try first month for just £1 / $1 / €1