Lance Armstrong to face trial in $100m lawsuit in November
Date set for case brought against Armstrong by former team-mate Floyd Landis and the US Justice Department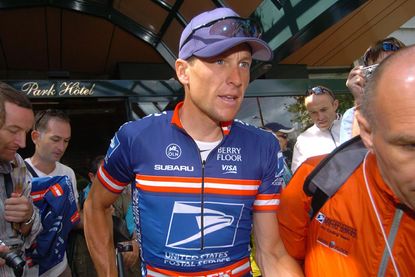 A date has been set for the $100m (£79m) lawsuit against Lance Armstrong after the banned cyclist's legal team failed to stop the action earlier in February.
The start date for the trial has now been set for November 6, and will take place in Washington D.C.
In a case brought against him by former US Postal team-mate Floyd Landis and the US Justice Department, Armstrong and Tailwind Sports, the company that owned the US Postal team, are accused of defrauding the government out of funds after Armstrong and other members of the team used performance-enhancing drugs.
>>> Lance Armstrong: I still put in the hard work, and I hope people don't forget that
Armstrong won seven editions of the Tour de France between 1999 and 2005, but later admitted to doping and had the wins stripped and was banned from cycling for life in 2012.
The American's lawyers unsuccessfully attempted to have the case thrown out on the grounds that the benefit that the US Postal Service had gained in exposure during Armstrong's time at the top of the sport had outweighed the money that it had invested in sponsorship.
The former cyclist has previously stated that he does not have the money to lose the case, and will be "out on the street" if the decision goes against him.
Thank you for reading 20 articles this month* Join now for unlimited access
Enjoy your first month for just £1 / $1 / €1
*Read 5 free articles per month without a subscription
Join now for unlimited access
Try first month for just £1 / $1 / €1