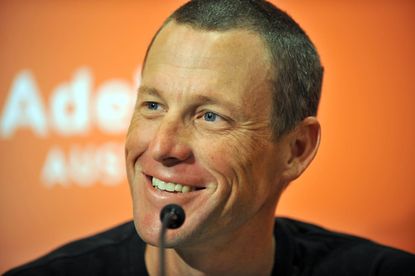 At most a dozen journalists were present as the US Postal rider, accompanied by his then wife Kristin and then directeur sportif Johnny Weltz, paced into a hotel conference room on the outskirts of Seville in early February 1998. He looked a little haggard, but defiant: Lance Armstrong was back.
Armstrong had chosen to make his definitive comeback race to cycling from cancer in the Tour of Andalusia that year - and it was low-key in anybody?s book.
Unlike in 2009, there was no security surrounding his return, no chaos with hundreds of journalists milling around, no posters of Armstrong plastered across the city, no secret arrival at an undisclosed airport or Adelaide radio stations playing ?Lance?s 500 favourite songs?, downloaded from his ipod.
Instead, in one half-hour press conference, the American simply discussed his comeback in a straightforward manner with the journalists. And that was it. The next day, Armstrong was back on his bike.
He admitted that after overcoming cancer and then deciding to return to racing in the one of the toughest endurance sports on the planet, he was feeling tense.
?On a scale of one to ten, my nerves are at 9.9,? was possibly his most memorable quote, although we could have missed some better ones. Tell the truth, Cycling Weekly had arrived late for the conference - we?d badly miscalculated the distance to the hotel, outside the start city of Seville.
We were rewarded for our late arrival with a blazing glare from Armstrong as we creeped into the room. Come to think of it, we were probably the first journos, post-cancer, to be treated to Armstrong?s famous ?look?: what an honour.
The first stage of the Tour of Andalusia, then as now as a five-day event, was held in sweltering heat - even in February. It was a circuit race starting and finishing in Seville, just over 150 kilometres long and flat as the proverbial pancake.
With no press room and no live tv coverage (again, a far cry from the 2009 Tour Down Under), we waited for the riders to appear at the finish under the shade of a palm tree, swigging water. They arrived late, having taken the first couple of hours easy, Seville is always dusty at the best of times and it made for a long, boring, uncomfortable wait.
Finally the riders loomed over the horizon. Victory in a bunch sprint went to a certain Robbie McEwen, one of the very few riders still in action - and who?ll be racing with Armstrong on Sunday.
Armstrong finished somewhere in the middle of the pack, in 58th spot. As Cycling Weekly reported at the time ?As he gets his breath back, Armstrong finally opens up a little: ?That was definitely a test. Maybe it?s just my condition, but I can?t remember a finish that hard for a long time. I?m pleased with the way I went. I was surprised to be up there that long, but I have training for four of five months all out.?
There is, he says, no comparison with the old Lance. ?I competed as a sick person for so long, especially in 1996, when I shouldn?t have been able to compete at amateur level. Now I?m healthier, lighter, more focused and hungrier ? that?s the key. I?m ahead of what I expected.?
By the end of the race, in Granada five days later, he was 16th overall. Merely racing was a great acheivement, let alone finishing. Great Britain?s one rider present - Jeremy Hunt, in his third season for Banesto - was 85th. The race was taken by ONCE?s Marcelino Garcia, winning the one uphill stage in almost total darkness after yet another go-slow by the riders meant the race arrived very late again.
Rather than the excess of information we?ve now got on Armstrong?s comeback, 11 years ago, almost pre-internet, it was much harder to come by. The closest we could get to Armstrong?s twittering at the time was provided by his ex-wife Kristin. She had written a on-line diary - then available at www.laf.org.
In the first, pre-race blog she mentions the solitude of their life in Europe, ?American [cyclists] go back to lonely hotels in crappy apartments to watch foreign tv?. She also mentions their cat, a large male named - ironically enough - Chemo.
After the first day?s racing, she reports that Armstrong says the comeback ?was the right thing to do? - what she calls the best message of the day.
But she also insists, time and again, on the importance of Armstrong?s message for the cancer community. In terms of stature, income, and success, Armstrong 11 years on is virtually unrecognisable, but for him, that much, at least, hasn?t changed.
RELATED LINKS
Contador says Amrstrong will take the pressure off him
Armstrong in Adelaide... and Astana kit
Armstrong to get elite security team for Tour Down Under
Armstrong to ride Tour of Ireland?
Lance Armstrong press conference transcript
Lance Armstrong: Exclusive interview
Armstrong trains with Contador for first time
Armstrong to ride 2009 Tour de France
Armstrong: still no drug-testing program
Armsrong visits Paris but doesn't want to talk about Tour de France
Armstrong speaks to Cycle Sport
Armstrong vs Hincapie at Tour Down Under
Armstrong to meet Tour officials before deciding on participation
Armstrong still playing it cool over Tour
Armstrong says he could not have hoped for a different Tour
Contador to stay with Astana and Armstrong
Lance Armstrong's Tour de France comeback in doubt
Armstrong to ride the 2009 Giro d'Italia
Armstrong rejects offer to re-test 1999 samples
Armstrong knew about six month rule
French offer Armstrong re-test of his 1999 Tour samples
Amrstrong hopes UCI show 'common sense' for Aussie return
Armstrong comeback in Tour Down Under faces possible delays
Watch Armstrong in Vegas 'Cross race
Armstrong confirms Ventoux time trial for 2009?
Armstrong's comeback starts in Australia
Wednesday Comment (September 24)
Contador says riding with Lance could be difficult
UCI president rubbishes Armstrong Tour buyout claims
Bruyneel talks up Armstrong's chances
The Wednesday Comment, Armstrong Edition (September 10)
Tour de France: Lance can race in 2009
Contador: Lance could win eighth Tour
Lance confirms 2009 comeback
Armstrong: No smoke without fire?
Thank you for reading 20 articles this month* Join now for unlimited access
Enjoy your first month for just £1 / $1 / €1
*Read 5 free articles per month without a subscription
Join now for unlimited access
Try first month for just £1 / $1 / €1