Lewis Oliva's stolen Olympic cycling shoes found in alleyway by member of public
24 hours after they were stolen, a member of the public found track sprinter Lewis Oliva's shoes in an alleyway in Cardiff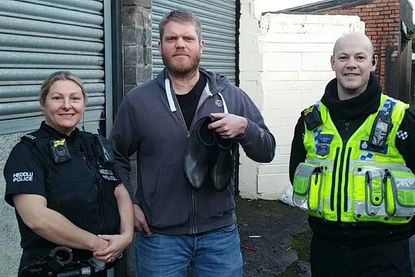 (Image credit: South Wales Police)
Track sprinter Lewis Oliva's unique Olympic cycling shoes have been found by a member of the public in an alleyway 24 hours after they were stolen.
The specialist carbon-fibre shoes were stolen from a car belonging to fellow track cyclist Ciara Horne's car on Tuesday.
A thief smashed the side window of Horne's Volvo as it was parked near the University Hospital of Wales. They removed a bag containing Oliva's shoes.
A widespread appeal asking people to look out for the distinctive footwear via social media and in the press came up with a result.
South Wales Police reported on Wednesday evening that Rob Davies had found them in a back lane and recognised them. Davies contacted police, and they collected them for return to Oliva.
"Good news - the shoes have been found. Member of the public found them earlier today discarded in a back lane. @swpcardiff officers doing house to house & are making arrangements to return them asap," said South Wales Police on Twitter.
Oliva replied via Twitter: "Thank you, so much to all those involved @swpolice great community spirit! Now I know how happy Cinderella felt after her shoe was returned!"
Horne added: "Amazing news!!!! Thank you soooo much! So grateful to everyone on twitter who helped raise awareness! Massive thanks to Robert Davies for finding them!"
Twenty-five-year-old Oliva has been riding in the 2017-2018 UCI World Cup for the Wales national team this season, and is the current British keirin national champion.
Thank you for reading 20 articles this month* Join now for unlimited access
Enjoy your first month for just £1 / $1 / €1
*Read 5 free articles per month without a subscription
Join now for unlimited access
Try first month for just £1 / $1 / €1