Live in Southampton? Head down to the University to ride with Chris Froome this afternoon
Froome offering the chance to ride with him at 3pm this afternoon in the south coast city, meeting at the University of Southampton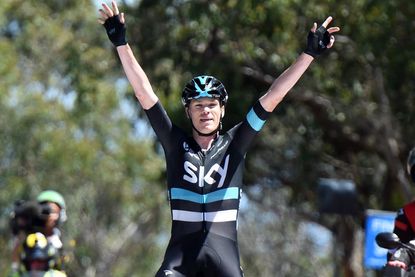 (Image credit: Watson)
Live in Southampton? Well if you're quick you could go and have a ride with a two-time Tour de France champion this afternoon.
Chris Froome - off the back of receiving his OBE from Prince William at Buckingham Palace on Friday - is down at the University of Southampton's wind tunnel, presumably dialling in his time trial position ahead of the Tour de France, but is now offering the chance for local riders to have a spin with him.
You'll have to be quick though, with the Team Sky man meeting riders at the red brick outside the Union building at 3pm this afternoon.
Planning on heading down? We'd love to hear from you so send us in your pictures or video to our Facebook or Twitter page.
Thank you for reading 5 articles this month* Join now for unlimited access
Enjoy your first month for just £1 / $1 / €1
*Read 5 free articles per month without a subscription
Join now for unlimited access
Try first month for just £1 / $1 / €1