Live stream: Watch Sarah Storey Hour Record attempt
Five-time Paralympic gold medalist will make first attempt at the women's record since the UCI rule change in 2014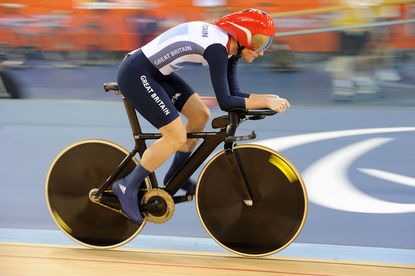 Dame Sarah Storey will make her attempt to set a new unified Hour Record on Saturday afternoon at Lee Valley Velo Park in London.
It's the first attempt at the women's record since the UCI made its rule change in May 2014, and Storey will aiming to surpass the current record of 46.065km, set by Leontien van Moorsel in Mexico City in 2003.
45.502km ride at Lee Valley Velo Park in London breaks Paralympic, British and Masters records
The new rules means the five-time Paralympic gold medalist will be able to use an aerodynamic bike and equipment, and Storey revealed the Ridley bike she will ride in her attempt earlier in February.
Storey began her sporting career as swimmer, picking up her first Paralympic medal in 1992 as 14 year old, but since turning her attention to cycling in 2005, she has equalled the records of Tanni-Grey-Thompson and Dave Roberts as Britain's most successful Paralympians.
You can watch Storey's Hour Record attempt, which takes place as part of the Revolution Series in London, via the live stream below.
Coverage from 14.50GMT, Saturday Feb 28.
https://www.youtube.com/watch?v=K8tgGIb24Hk
Thank you for reading 5 articles this month* Join now for unlimited access
Enjoy your first month for just £1 / $1 / €1
*Read 5 free articles per month without a subscription
Join now for unlimited access
Try first month for just £1 / $1 / €1