Lotto-Soudal change name and kit for Paris-Nice to promote sponsor's product
As was the case in 2016, Lotto-Soudal will be known as Lotto-Fix All for Paris-Nice, to promote one of Soudal's products. The team will also wear a different kit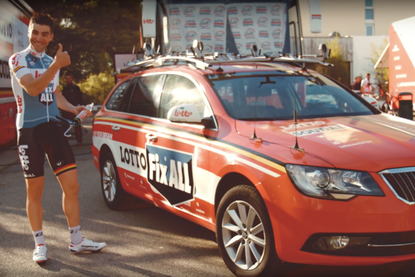 Just to show the power a sponsor has over a cycling team, Lotto-Soudal will be known as Lotto-Fix All during Paris-Nice (March 5-12) in order to promote a product from their co-sponsor.
As they did in 2016 the eight-strong team for the stage race will be sporting a different kit, with the grey, white and red look a throwback to the old Omega Pharma-Lotto kit of 2010, and matching Ridley bikes.
https://www.facebook.com/ridleybikes/posts/1236736166375180
To celebrate this temporary name change, the team have made a nice little video in a slight, and probably coincidental, homage to Blur's Coffee and TV music video.
Instead of a milk carton wandering the streets, here a tube of Soudal Fix All rolls all the way from Paris to Nice and straight to the feet of Tony Gallopin.
To show the dexterity of the product, Gallopin then sticks a Fix All badge over the Soudal name on a team car. He did a bit of a shoddy job of it, so we assume they'll get professionals in to rebrand the cars for the race.
Thank you for reading 20 articles this month* Join now for unlimited access
Enjoy your first month for just £1 / $1 / €1
*Read 5 free articles per month without a subscription
Join now for unlimited access
Try first month for just £1 / $1 / €1