Lucy Garner signs with Wiggle-Honda for 2016
Former double junior world champion Lucy Garner inks two-year contract with Wiggle-Honda squad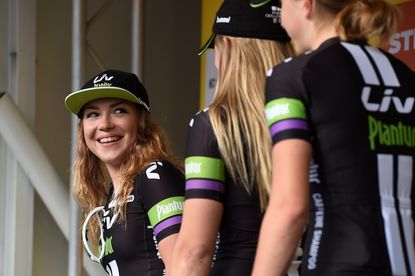 (Image credit: Andy Jones 2014)
British former double junior world champion Lucy Garner has signed a two-year contract with Wiggle-Honda after spending the past three seasons with the Dutch Liv-Plantur team.
The 20-year-old from Leicester took the junior world titles in 2011 and 2012, and is now seeking a move to a new squad to progress her career. Garner's most recent success is a stage win in August's La Route de France.
"I just need the next step, a new challenge, and I feel that it's that time now in my career when I need to make that step," said Garner. "I think that Wiggle Honda they can really support me and help me with that. They're really, really positive, and they really believe in my abilities as a sprinter.
"It has been a good three years, but I'm definitely looking, especially next year and the year after, to build on my sprint, and also work on building a bigger engine so I can be there in the finals," continued Garner. "That's another real reason why I'm going to Wiggle Honda; they will give me real opportunities to be in the final, but not necessarily always sprinting."
Garner joins 24-year-old Dutch woman Amy Pieters in joining Wiggle-Honda from Liv-Plantur. The team has also signed up the talents of Belgian champion Jolien D'hoore and Swedish champion Emma Johansson for 2016.
Garner has been selected to ride for Great Britain in the 2015 UCI World Championships road race alongside Lizzie Armitstead, Alice Barnes, Molly Weaver and Jessie Walker.
Thank you for reading 20 articles this month* Join now for unlimited access
Enjoy your first month for just £1 / $1 / €1
*Read 5 free articles per month without a subscription
Join now for unlimited access
Try first month for just £1 / $1 / €1