Mauro Santambrogio doping case could be first for UCI's new tribunal
Italian Mauro Santambrogio will fight UCI against a suspension for testing positive for testosterone, which he says he took for legitimate medical reasons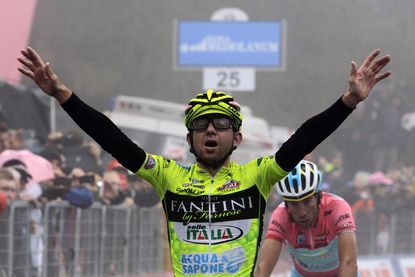 (Image credit: Graham Watson)
Mauro Santambrogio is fighting a doping positive that he said resulted from fertility and erectile drugs. His lawyer requested an extension to January 20, when he will present the Italian's defence to cycling's governing body, the UCI.
The UCI explained on Tuesday night that its new anti-doping tribunal is ready to handle cases and take the burden, and doubts, off of the national federations. Santambrogio's case could be the first on the tribunal's bench.
Santambrogio raced for Lampre, BMC and Vini Fantini before his career came to a stop. At the 2013 Giro d'Italia, in Vini Fantini's neon yellow colours, he won the Bardonecchia stage and placed ninth overall, but the UCI announced that he failed a test for blood booster EPO one week later.
The curly-haired cyclist from the Lake Como zone cooperated with the on-going Cycling Independent Reform Commission (CIRC) to reduce his sentence. Instead of serving four years, he only had to sit out 18 months, until November 2, 2014. He was due to race again in 2015 with third division team Amore & Vita, but near the end of that period, on October 22, he tested positive for testosterone in an out-of-competition control.
Santambrogio explained that he was trying start a family with his girlfriend during his suspension and visited a doctor to resolve his problems.
"I went to an urologist on July 7," he told Tutto Bici website in December.
"For my erection problem, he wrote me a prescription for Andriol, 40mg for three months, plus Aprosten for 60 days. Also, I had fertility problems and was being tested because I want to start a family."
Andriol is a brand name for testosterone and Aprosten is used to help prevent prostate problems. Andriol could help with erectile problems but one of its possible side effects includes reduced sperm count.
The World Anti-Doping Agency (WADA) bans the use of Andriol at any level. An athlete may not apply for a therapeutic use exemption (TUE) use the drug.
Santambrogio's lawyer, Giuseppe Napoleone said that Santambrogio had been taken off the Registered Testing Pool (RTP) list. He added that Santambrogio's name was not on the UCI's website for testing since his ban began in 2014.
The UCI requires suspended cyclists to re-enter its testing pool six months before returning to their first race. Santambrogio announced his contract and plans to return in the 2015 season with Amore & Vita on October 31, 2014.
"It appears out of the question that the drug use was not aimed to change or alter sporting results, since Mauro Santambrogio could not compete given his suspension," Napoleone said in a statement on Tutto Bici's website today.
"I am confident to clarify the matter before the competent bodies in order to prevent my client become a sacrificial victim in the fight against doping."
Thank you for reading 20 articles this month* Join now for unlimited access
Enjoy your first month for just £1 / $1 / €1
*Read 5 free articles per month without a subscription
Join now for unlimited access
Try first month for just £1 / $1 / €1