Cycling teams can now be suspended in doping cases
UCI introduces tougher anti-doping rules: cycling teams can now be suspended for up to 12 months if two, three or more riders are found guilty of doping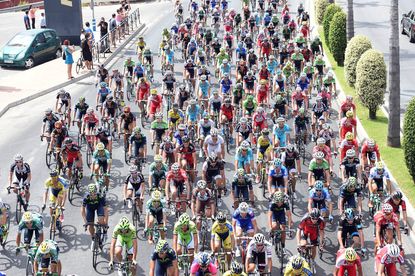 (Image credit: Graham Watson)
Cycling's governing body, the UCI, has strengthened its anti-doping rules to include four-year bans, team suspensions and an international tribunal. Overnight, it rolled out its changes for 2015 and beyond based on the new World Anti-Doping Code (WADC).
Several of the changes were expected. The World Anti-Doping Agency (WADA) introduced four-year bans in its 2015 code and the UCI at a September 2014 meeting said that it was planning for an international tribunal to take cases out of the national federations' hands.
However, the rules now give the UCI greater power to sanction teams, cyclists and staff members.
12-month team suspensions
The UCI can now stop its registered teams for up to 12 months. If two cyclists are caught cheating, their team could be suspended from participating in international events from 15 to 45 days based on how the UCI's disciplinary commission rules. If a third cyclist cheats, the commission can sideline the team for up to 12 months.
The UCI will also fine WorldTour and second division teams five per cent of their team budget if two cyclists cheat in a 12 month period.
The rule change falls in line with the voluntary Movement for a Credible Cycling (MPCC) regulations, which blocks teams from racing for multiple violations. Team Astana, which won the Tour de France with Vincenzo Nibali, pulled itself from competition and missed the Tour of Beijing in 2014 after brothers Valentin and Maxim Iglinskiy failed EPO tests.
UCI President Brian Cookson explained in September that he wants avoid having two sets of rules for teams to follow, even if one is voluntary. The announced change could eliminate the need for MPCC's rule.
An international court
At the World Championships in Ponferrada, the UCI voted to begin an international anti-doping tribunal to hear cases and to give consistent rulings.
The move came in the wake of Roman Kreuziger's biological passport case. The UCI announced abnormalities in his passport, but the Czech Republic cleared its cyclist to race and essentially forced the UCI to appeal to the CAS. Pending a ruling, Kreuziger is free to compete for team Tinkoff-Saxo.
"The tribunal will be made up of judges specialised in anti-doping, independent of the UCI, with the aim to provide all international level athletes with the same consistent process and a clear, short timetable," read a press release.
"This should ensure consistency and uniform quality in the decisions, significantly reduce the number of cases that go to the CAS on appeal and lift the operational burden from national federations."
Stricter penalties for everyone
Starting this year, four-year bans will apply to those caught using "serious doping substances" like steroids, growth hormones and EPO or blood doping. The longer ban will also apply to someone who refuses to be tested, evades testing or tampers with the anti-doping samples.
WADA extended the statute of limitations. The UCI can now investigate and sanction someone based on evidence from up to 10, instead of eight, years ago.
Associating with someone banned, like a coach or doctor, now results in a rule violation. This rule was already in place in some countries like Italy. Cyclists Filippo Pozzato (Lampre-Merida), Michele Scarponi (Astana) and Giovanni Visconti (Movistar) served bans for working with Doctor Michele Ferrari.
The UCI explained that cyclists or team staff must report if they know of a situation that could be a rule violation. They must also collaborate in any subsequent investigation.
Thank you for reading 20 articles this month* Join now for unlimited access
Enjoy your first month for just £1 / $1 / €1
*Read 5 free articles per month without a subscription
Join now for unlimited access
Try first month for just £1 / $1 / €1