UCI appeal to take Kreuziger bio-passport case to the CAS
The UCI and the World Anti-Doping Agency have appealed against the Czech Olympic Committee's decision to clear Roman Kreuziger after irregularities were found in his biological passport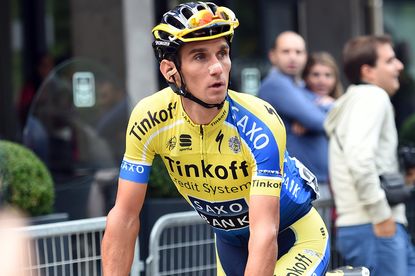 Cycling's governing body, the UCI will continue to fight Czech cyclist Roman Kreuziger (Tinkoff-Saxo) and try to stop him from racing in 2015. With the World Anti-Doping Agency (WADA), it appealed his anti-doping biological passport case to the sport's high court, the Court of Arbitration for Sport (CAS).
"After reviewing the full case file, the UCI, joined by the WADA, has decided to appeal the Czech Olympic Committee hearing panel's decision to acquit Roman Kreuziger following anomalies that were found in the rider's biological passport," read a UCI statement today.
"Having carefully considered the decision, the UCI and WADA are filing an appeal with the CAS with the request that consideration be given to a sanction for Kreuziger that is fully compliant with the rules of the World Anti-Doping Code."
Kreuziger placed fifth in the 2013 Tour de France and won the white jersey at the 2011 Giro d'Italia. In June ahead of the 2014 Tour, where 28-year-old cyclist was to help Alberto Contador, the UCI stopped him due to suspicious passport readings. After the Czech Olympic Committee ruled in his favour, he returned to racing in the Milan-Turin on October 1.
As it has done with past cases like Franco Pellizotti's, the UCI was expected to appeal the decision to uphold its passport system. It introduced the system in 2008 to track riders via blood and urine values throughout their careers. Abnormal readings could indicate doping.
The biological passport stopped several cyclists so far, including Brit Jonathan Tiernan-Locke and is credited with helping keep cycling cleaner. Italian Vincenzo Nibali (Astana) acknowledged it after winning the 2014 Tour de France and said it allowed him to be able to compete for victories.
The UCI's anti-doping commission contacted Kreuziger several times regarding his passport numbers in 2011 and 2012, when he raced in team Astana's turquoise colours. The cyclist spoke to experts and responded with documentation, but the commission on May 30 refused his explanation and passed the case over to the Czech Republic.
The Czech Olympic Committee, however, cleared its cyclist on September 22 and allowed him to return to racing.
"I am not going to comment on an individual case while it's ongoing," UCI President Brian Cookson said in September, "but all biological passport cases are important, integrity or authority are very important."
Cookson also revealed last month at the World Championships that an international and independent anti-doping tribunal will be in place for 2015. Instead of anti-doping cases going to national agencies, where questions of bias arise, the new tribunal will handle them directly.
"It's not a reaction to recent cases," Cookson said. "It takes away that potential conflict of interest, it's something that the national bodies want. And of course, the riders and nations will have the right to appeal any decision to CAS."
Court of Arbitration for Sport rejects Roman Kreuziger's appeal against provisional suspension due to possible anti-doping violation
Tinkoff-Saxo's Roman Kreuziger free to race again after biological passport anomalies
Thank you for reading 20 articles this month* Join now for unlimited access
Enjoy your first month for just £1 / $1 / €1
*Read 5 free articles per month without a subscription
Join now for unlimited access
Try first month for just £1 / $1 / €1