Michal Kwiatkowski is out riding in the snow again, this time doing his recon of Strade Bianche
At least he's got blue sky this time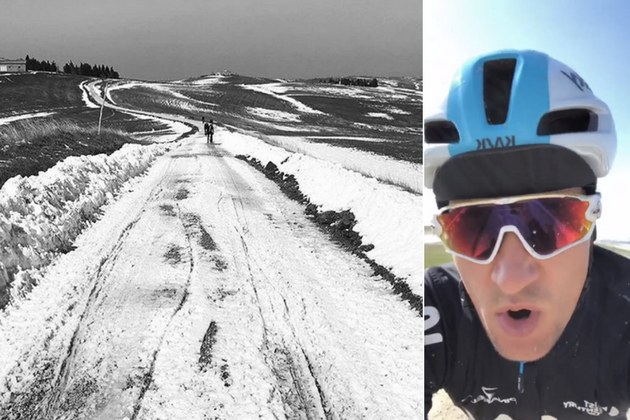 As if one snowy recon ride in a week wasn't enough, Michal Kwiatkowski is out in the cold once again, this time taking a look at the white gravel roads of Strade Bianche.
On Monday Kwiatkowski was braving blizzard conditions to take a look at the final 30km of Milan-San Remo, and today he was at another Italian race where he is the defending champion, riding the finale of Strade Bianche, which takes place on Saturday.
Posting on Instagram, the Polish rider showed how the white roads are even whiter than normal, with thick coverings of snow and ice on some sections of the unpaved roads.
>>> 'It's too cold to race for five hours. It's unhealthy': Quick-Step doctor calls for shorter races in freezing conditions
However unlike his ride on Monday which was completed in heavy snow, Kwiatkowski and his Team Sky team-mates did at least get to enjoy a bit of blue sky, giving lovely views of the Tuscan countryside, even if the temperature barely rose above freezing.
Kwiatkowski wasn't the only rider out having a look at the route of Strade Bianche ahead of Saturday's race, with Romain Bardet also posting on social media about his recon, although showing it in a rather brighter light.
The good news for the riders is that the temperature is forecast to rise and the snow melt before Saturday's race, meaning that the race won't be run in the same freezing conditions that have hit the Belgian races of Le Samyn and Kuurne-Brussels-Kuurne in recent days.
>>> Cycling in snow and ice: how to stay safe and have fun
The bad news is that, just as was the case in last year's race, heavy rain is scheduled not only on the race day itself, but also on Thursday and Friday, raising the possibility that the race could be run in muddy condition as the white gravel roads turn brown.