Do you need an aerosuit for road riding?
Should we all be wearing the tightest of tight cycle clothing, an aerosuit?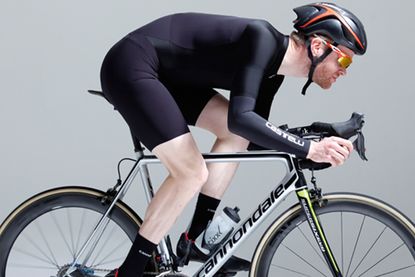 With the battle for free speed producing a seemingly endless array of new equipment, it wasn't long before clothing came under scrutiny. Long gone are the days of baggy wool jerseys and saggy shorts. 'Aerosuits' are at the cutting edge of this trend and are no longer the preserve of the pros.
Line up at the start of even the smallest Regional C race and aerosuits abound. But is this anything more than fashion?
The road-going aerosuit first came to the public's attention through high-profile race wins in 2011. Johan Vansummeren won Paris-Roubaix in a Castelli Speedsuit and Mark Cavendish became world champion clothed in a Great Britain skinsuit.
Before then, the use of skinsuits by the pros had been limited to time trials and track cycling, where racing against the clock meant that every aerodynamic advantage was sought out. But what Vansummeren was wearing — although superficially resembling a classic TT skinsuit — was something very different.
What is an aerosuit and how does it differ from a skinsuit?
An aerosuit seeks to address the downsides of wearing a skinsuit for longer events by creating a more practical item of clothing while still retaining the aerodynamic advantage of a tight-fitting, one-piece suit.
>>> How to be more aero on your road bike (video)
Aerosuits are typically a race-fit jersey sewn to a pair of shorts, negating the need for bib straps. This joining leaves the front quarter loose, just like a regular jersey, allowing more ventilation, and makes it considerably easier to get on and off. Practicality is increased by the addition of two or three pockets on the back, enabling riders to carry useful items during longer road races.
>>> Seven essentials you need to take on every ride
Castelli's SanRemo aerosuit, probably the best-known example, mates the company's Free Aero Race shorts with the top-end Aero Race jersey. Rather than being constructed of a heavier-weight Lycra material throughout, an aerosuit utilises lighter fabrics in the jersey portion to allow better comfort and breathability.
How much speed can you really buy?
Why should you wear one?
Cycling Weekly's own tests show that an aerosuit can save around five watts of energy compared to a close-fitting jersey and short combination and 10 watts over loose-fitting clothing, equating to time savings of 45 seconds or more over 25 miles.
Endura's Jim McFarlane describes aero clothing design as the company's "biggest development programme".
Working closely with the Movistar WorldTour team and Simon Smart of Smart Aero Technology, McFarlane explains: "80 to 85 per cent of resistance is caused by surface and pressure drag; aero materials and clothing can reduce that effort by 10-12 watts."
Specialized, with its new Evade aerosuit, claims to save a whopping 96 seconds over 25 miles and Rapha lays claim to the fastest kit after wind tunnel trials with Team Sky.
So the main advantage is one of aerodynamics or 'free' speed. The appeal for time triallists is obvious but road riders can also benefit by the reduction in effort needed to maintain position within a group. For riders looking at making a solo break the aerosuit might just give them the edge they need.
But do you need one?
Aerosuits do have their downsides, though. Jersey and shorts allow better temperature regulation when the heat rises, they're more comfortable in a more relaxed riding position, they don't look ridiculous when you walk into a cafe, and the pockets in a standard jersey will hold more.
>>> Can an aero road helmet make you faster?
Also, crash in a jersey and shorts and chances are one item will survive; crash in an aerosuit and you might be looking at an expensive replacement.
Our take
There's no getting away from the fact that the aerosuit is here to stay. There are obvious aerodynamic advantages for time triallists and road racers but it is probably best to think of them as another weapon in the quiver; to be chosen for specific types of racing and conditions rather than a best fit for all. As for use during training or on the Sunday club run? We'd rather not.
How much faster is a skinsuit?
Do you need an aerosuit for road riding? The experts have their say
Yes: Gianluca Capello, Italian ex-pro, ProSport Distribution
"For club racers and professionals alike, the advantages of wearing an aerosuit are proven. Aerodynamic attributes are better than a jersey/short combination and material choices make them more comfortable than a skinsuit for longer races. The aerosuit is a very versatile piece of kit and every racer should have one at their disposal."
No: Rory Townsend, elite rider, Pedal Heaven RT
"Two considerations: my role in the team, and the weather. If I'm bottle boy then it's shorts and jersey; obviously I can hold more kit in there. If I'm going for the win then its a speedsuit. If it's comfortable weather conditions, then I'll go with a speedsuit. Shorts and jersey gives you more options for wearing layers because whatever you can take off you can hold onto."
Thank you for reading 5 articles this month* Join now for unlimited access
Enjoy your first month for just £1 / $1 / €1
*Read 5 free articles per month without a subscription
Join now for unlimited access
Try first month for just £1 / $1 / €1