Endura and the man behind Movistar's clothing
Jim McFarlane: the man who turned his small Scottish clothing brand into an international success story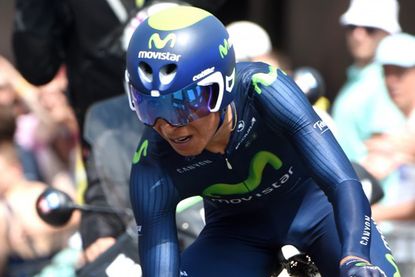 Get The Leadout Newsletter
The latest race content, interviews, features, reviews and expert buying guides, direct to your inbox!
Thank you for signing up to The Pick. You will receive a verification email shortly.
There was a problem. Please refresh the page and try again.
Earlier this year we visited the headquarters of cycling clothing company Endura to meet the man behind the brand. Now, with two of the top riders in the Vuelta a España in the shape of Nairo Quintana and Alejandro Valverde due to race in Endura clothing, we look at the background to this Scottish success story.
Livingston, Scotland. It's a windy, slightly wet day. Some hills are visible in the distance, others are obscured by clouds. Away from the town's designer outlet-dominated centre, there's plenty of greenery on show.
"We were known as the Scottish, mountain bike, s**t-weather clothing company," jokes Jim McFarlane. Given the vistas on offer from Endura headquarters in the aforementioned town, it's not hard to see why.
The ambitious Scot is the driving force behind the Scottish clothing company, which started in 1992
with an off-road focus, yet now has a reputation for selling high quality products across cycling's various disciplines.
"We can't compete with the older brands on heritage — that's not something you can make up," he says. "We're best-known for our off-road range here in the UK, and we didn't have that legacy or reputation in the markets we've entered into, and are entering into.
"We have to have better products in comparison with the long-standing products and ranges."
To do that, Endura operates out of a 56,000sq ft office, which sits almost equidistant from Glasgow (to the west) and Edinburgh (the east).
The company has become a modern-day success story; in the year to April 2014, it generated £24m in revenue globally. It was a winner in the 2013/2014 HSBC Global Connections Awards for small and medium-sized businesses, and private equity company Penta Capital invested a minority share in the company last October.
>>> Endura launch new custom bib short PadFit system
Endura has distributors across Europe, South America, Russia, USA, Canada, Australia, New Zealand and China, but it still has its original identity at heart. As its tag-line says, its products are born in Scotland but ridden around the world.
"We've got around 130 staff working here," says McFarlane. "We've got 25 or so in the States, another 25 in Europe and around that figure at our quality control centre in Shanghai."
Would he be tempted to move the entire production side of the business away from Livingston?
"Making things in the UK is really important to us. It keeps us closely connected to our products," he replies.
Anything from its top-of-the-range products to its jerseys clad in the logos of local whisky brands are made on site, and work to expand its already sizeable warehouse has been completed since CW visited. There's visible momentum within the company.
No racer
McFarlane has no illusions about how good he was as a rider. "I was rubbish," he says, pointing out his best 10-mile time was "in the high 23 minutes" and that his shape rendered him "useless at going up hills". (Nonetheless, he was still a member of the popular Denny and Royal Albert cycling clubs).
However, his business instincts were far superior: his search for good quality kit during a 14-month stint living in Sydney, Australia, left him cold, and upon his return to the UK he decided to do something about it.
"Mountain biking was the big opportunity at the time," he says. "Although time trialling and road racing were what I was more involved with, the off-road scene was changing.
"There was a lot of innovation on the bikes, but the big brands in clothing hadn't responded."
Endura's first offering was the MT500 range, which, with its mountain bike-specific products, is still going strong.
In recent years, it is the company's involvement in road racing that has significantly boosted its profile. This was kick-started through its eponymous road racing squad, which was launched in 2008 and became a UCI-ranked team between 2009 and 2012.
After modest initial success, Frenchman Alex Blain won the 2011 Tour of Normandy and current Cannondale-Garmin pro Jack Bauer took the team's biggest win at that point, a stage in that year's Tour of Utah.
"Originally, it was about us having a product test platform that gave feedback immediately," says McFarlane. "So we saw the opportunity to establish a vehicle to show we were serious about road cycling and its clothing products."
Then came 2012, in which new recruits Russell Downing, Jonathan Tiernan-Locke and Zak Dempster helped the team become dominant at home and successful abroad. It came at a cost, however: the team's budget was reportedly £1m, around double that of their rivals.
"We got sucked in, perhaps, and maybe we spent too much, but it was an intense period for us," McFarlane says, before addressing Tiernan-Locke's subsequent fall from grace. "Endura Racing got to where it got to; it was an incredibly strong team, regardless of whether you take away certain results given recent developments.
"There wasn't any chance of us going further than that, but we wanted to have the possibility of getting wild-card invites for the Grand Tours."
A merger with the second-division German squad NetApp, who had been invited to the 2012 Giro d'Italia and performed modestly in it, gave Endura that vehicle. The partnership lasted for two years, in which time Czech rider Leopold König placed seventh in last year's Tour de France, and won a stage of the 2013 Vuelta in the company's kit.
"Ultimately, that got us [as far as] it could take us," added McFarlane. "We weren't going to win the Tour, so again we couldn't have gone further."
Grand Tour kit
The team — now rebranded as Bora-Argon 18 — has re-established itself as a largely German outfit; nonetheless, Endura still has a sizeable presence in the pro peloton thanks to a partnership with Movistar that began last year.
McFarlane adds: "We wanted to be the brand — not the team — that helps riders obtain Grand Tour success.
"When you get to WorldTour level, there's a level of expectation. The team are a driving force for us; they keep putting the pressure on."
Quintana won last year's Giro in Endura kit, and Alex Dowsett's successful World Hour Record came after the company made and wind-tunnel-tested fifty-seven skinsuit prototypes for him.
"People working here enjoy that challenge, the desire to continuously make improvements," McFarlane says. "It's exciting to see that products we've initially designed for riders like Nairo and Alex end up available for customer sale."
(Endura's aerodynamic WT Aerosuits and speedsuits, as well as its WT Classics range, which can be purchased by customers, are what the professionals were wearing in 2014.)
There's a sizeable noticeboard in the Endura offices that monitors how its affiliated teams and riders are getting on. It covers more than Movistar; the company is still the apparel sponsor of the Betch.nl Superior Brentjens mountain bike team and clothing partner of Chris Smith, the renowned British dirt jumper.
"If you look at the number of projects and collaborations we've got on at the minute, I think they're credible," says McFarlane.
"I think people want to work with us. What we're delivering, and our pipeline of what we're aiming for in the future is really exciting.
"We're doing things I couldn't have dreamed of 10 years ago because we've got the credibility and resources now. It's a great place to work."
Thank you for reading 20 articles this month* Join now for unlimited access
Enjoy your first month for just £1 / $1 / €1
*Read 5 free articles per month without a subscription
Join now for unlimited access
Try first month for just £1 / $1 / €1
Get The Leadout Newsletter
The latest race content, interviews, features, reviews and expert buying guides, direct to your inbox!
Nick Bull is an NCTJ qualified journalist who has written for a range of titles, as well as being a freelance writer at Beat Media Group, which provides reports for the PA Media wire which is circulated to the likes of the BBC and Eurosport. His work at Cycling Weekly predominantly dealt with professional cycling, and he now holds a role as PR & Digital Manager at SweetSpot Group, which organises the Tour of Britain.