Not sure where to store your bikes? How about a fake skip
Dummy skip provides accommodation for several bicycles and - the theory goes - will not be looked at by thieves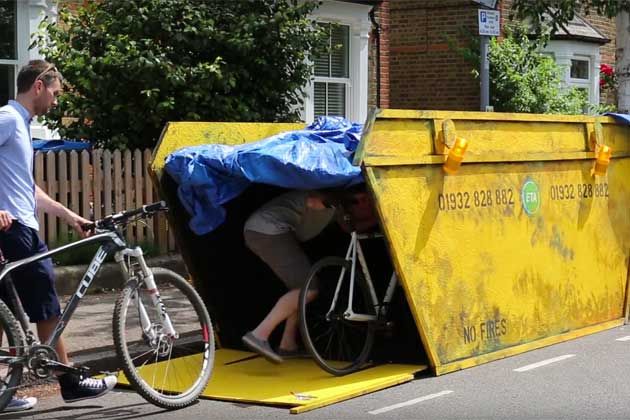 (Image credit: ETA)
Many solutions for solving the problem of bike storage have been created over the years, but this is quite possibly the world's first bike store disguised as a skip.
To the majority of right-minded cyclists, putting your bike in a skip would be the stuff of nightmares, but this fake skip is a clever storage solution that any thief would probably miss.
Created by insurance and breakdown assistance company the Environmental Transport Association (ETA), it says that the Biskiple is "almost entirely anonymous in the urban environment."
According to ETA it can be "erected in less than five minutes on any street or drive. It is of particular use to urban cyclists who often have a challenge finding somewhere to store their bicycles".
The Biskiple is designed to be flat-packed, with its wooden construction easily erected. With authentic-looking scuffs, dirt, lights and blue tarpaulin, it really does look like a skip.
"A determined thief can break any lock, but if they don't think the bike is there in the first place it makes their life a little harder," said an ETA spokesperson.
There's only one problem with the Biskiple: skips can attract people who like to rummage through their contents or illicitly chuck in their own rubbish in the dead of night.
ETA say that you can obtain plans on how to make your own Biskiple by emailing them for instructions. The company says it should cost only £100 to make – or less if you use recycled materials. That's less than hiring an actual, real skip.
ETA has previous form for creating eye-catching inventions. It was responsible for a bike with the loudest horn in the world, as ratified by Guinness World Records.