"Nothing illegal" found in pills found on Paris-Roubaix roadside
UCI announce that ibuprofen, caffeine, theophylline and quinine - none of which are on the WADA prohibited list - were found in pills picked up by British fans during April's Hell of the North.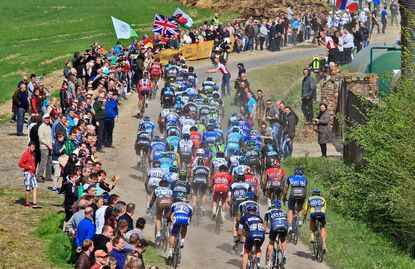 (Image credit: Graham Watson)
The UCI today confirmed that analysis of pills found in a vial along the course of this year's Paris-Roubaix showed no trace of any illegal substance.
Cycling Weekly revealed in April that British fans picked up the vial after it fell out of a rider's jersey pocket when they crashed in front of them during the iconic one-day race.
The vial was sent to UK Anti-Doping (UKAD), who passed them onto the UCI and Cycling Anti-Doping Foundation (CADF).
However, the sport's governing body today announced that Ibuprofen, caffeine, theophylline (prescribed for those with breathing problems) and quinine (often used for leg cramps) were traced by the Swiss Laboratory for Doping Analyses (LAD). None of these substances in included on WADA's prohibited list.
UKAD's Director of Operations, Nicole Sapstead, said: "A member of the public, and by consequence the Report Doping in Sport hotline, played an integral role in ensuring that this information was passed on to the appropriate authorities to be properly investigated.
"We applaud all those who recognised that this was the most appropriate action to take in the pursuit of clean sport.
"UK Anti-Doping acted quickly, working closely with our partners at the CADF and UCI, and we hope that fans are reassured that anti-doping organisations are collaborating on a global level to deter and detect suspicions of doping."
International cycling news round-up (April 17): Armstrong fixes a flat; Horner leaves hospital; Movistar names Quintana's Giro team
Thank you for reading 20 articles this month* Join now for unlimited access
Enjoy your first month for just £1 / $1 / €1
*Read 5 free articles per month without a subscription
Join now for unlimited access
Try first month for just £1 / $1 / €1