Online talent spotting - what it takes to get noticed on Zwift
The pathway to the top tier of cycling looks like a map of the London Underground. Starting at Club Network, the high-aspiring cyclist will be calling at the Development Centre, the Regional School of Racing, the National School of Racing, the Junior Academy, the Podium Programme and finally fame, glory and a summit finish victory in yellow on Mont Ventoux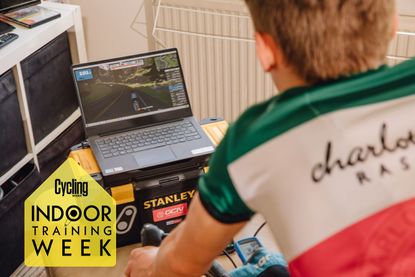 (Image credit: Future)
At least that's how the fairytale should pan out. But how does the talent development system – within British Cycling and more broadly – find the best young riders out there and get them started at their journey's beginning?
And could the virtual world of indoor training and racing on smart-trainers be about to greatly broaden the reach of the talent-spotters?
Among the many elements of its programme – track skills, cyclo-cross, strength and conditioning, rollers sessions, nutritional advice, the list is a long one – BC has recruited the popular virtual cycling app Zwift to help identify talented young riders who have a real chance of cracking the professional cycling scene. Smart trainers provide an easy and effective way to track metrics in a controlled environment, and BC recently ran a pioneering pilot scheme in partnership with Zwift.
CW spoke to BC's development coach Joe Malik to find out how he is using the 'game' to find super-talented 13-16-year-olds.
"It brings people together," said Malik. "The riders who use it may get the opportunity to see each other only four or five times a year, but Zwift has the potential to bring them together more frequently, and the app even allows them to chat to each other."
He is quick to point out that turbo training is just one piece of the pie, and that, in isolation, figures garnered from Zwift will not necessarily book you a place at the next Olympics.
"As a British Cycling programme, using Zwift is about complementing our offer and shouldn't be taken in isolation. Transferring from a static trainer to riding a bike isn't always successful – in a bike race, you need to be able to attack, descend and counter-attack."
Despite these limitations, Zwift is the perfect platform to establish benchmark figures that can be 
tracked as young riders grow in size and strength.
"We did three pilot sessions on Zwift," Malik explained. "One was a custom workout – a Russian-steps session – where we looked at peak and average power. At this age [13-16], all types of power are trainable – it can all be developed – so this gives us a good insight into the riders' potential."
What levels of power was the BC team looking for among all these 
youth riders?
"From a peak power point of view, anything over 900-1,000 watts for a 15-year-old [boy] is very exciting," said Malik. "Our benchmarks for endurance tests work across three, six and 12 minutes, so we'd look for 350 watts for three minutes as a starting point, and then we'd look to work with the rider to develop that [over six and 12 minutes]."
Cut and thrust
In preparation for this feature, I paid a visit to 15-year-old Ben Flatau at his home in Surrey. Flatau is a youngster already embroiled in the cut and thrust of the talent-ID programme, and that evening he was taking part in one of BC's talent development races on Zwift.
I watched on as he averaged five watts per kilo – a very strong effort for his 48kg – in the race around Zwift's virtual version of Central Park. The youngster dismounted onto his living room floor having finished seventh in the bunch sprint, and told me about how he was selected for the programme by his club, Guildford-based Charlotteville CC. He has big dreams about making it to the top.
"You start by going to regional cluster sessions and development pathways, which build up to the RSRs [Regional Schools of Racing]. You also get invited to sessions where you learn about strength and conditioning and nutrition," Flatau told me.
As if his competitive streak needed confirmation after the full-gas virtual sprint he'd just completed, Flatau vividly outlined his ambitions.
"I see myself on one of the academies when I'm 18 or the Podium Programme. After the RSRs, they pick 40 riders from across the country to go on to the Apprentice Programme."
And he has a back-up plan too.
"If that doesn't turn out in my favour, I know someone who wasn't accepted onto the programme who, instead of reacting 'I'm done with cycling', moved out to Belgium and is now racing with a Belgian team."
BC isn't the first organisation to use Zwift as a form of talent-spotting. The app's own scheme, the Zwift Academy, gives female Zwifters the chance to compete for a place on the Canyon-SRAM WorldTour team. The under-23 men, meanwhile, are given the opportunity to race for a slot on Dimension Data's roster. Qualification for the Academy, which takes place every year, comprises a series of workouts and races from which key metrics are extrapolated and eventual winners, male and female, are crowned.
Last year's female winner and now Canyon-SRAM rider Jess Pratt gave me her view on how online platforms are changing cycling and making it more accessible, since it is easier to demonstrate your talent.
"Zwift allowed me to train safely and efficiently in the early hours of the morning or between night shifts," said Pratt. "I never had an issue finding a training session to suit my goals.
"I look back on Zwift Academy and still pinch myself – very grateful that Zwift and Canyon-SRAM have created the pathway."
Though Pratt has ridden her way to a WorldTour contract, her relationship with Zwift hasn't ended.
"I still incorporate Zwift into my training," she said. "It's safe, effective and time-efficient. I use it for a range 
of things, from recovery rides to 
hard workouts. It allows me to focus on my training session without having to worry about terrain, traffic or weather conditions."
Online training data played an 
important role in recruiting riders to 
the Skoda DSI Cycling Academy – set up to give talented young female riders the chance to develop their skills under the tutelage of Dame Sarah Storey.
Cycling Weekly spoke to Storey to find out how riders were chosen for the five available spaces on 
the academy.
"We whittled down many hundreds of applications," said the 14-time Paralympic champion. "There are major gaps [in opportunity] across all age groups, particularly at junior level. The distances that youth girls ride and race, compared to youth boys, means that some female riders are set up to fail straight away."
For this reason, the Skoda Academy team took an unusual approach, sifting through Strava data to find otherwise hidden talent before holding a talent-ID test day in London.
"We conducted physiological tests, and those results were important," said Storey, "but we also wanted to find out how each rider conducted themselves. Basing selections only on data would be a major flaw because you can't see the technical ability of the rider."
Would relying too heavily on Strava or Zwift data therefore be a mistake?
"These platforms are part of the toolkit, and an absolutely fantastic part, but they can't replace face-to-face contact and teaching people how to ride a bike."
It goes beyond bike-handling too, as Storey explained by drawing on her own experience as someone who came to cycling from swimming. "We forget the importance of learning how to pedal, for example. I'm a really good example and I'm trying to support riders who are coming into cycling even in their 20s, to bridge this gap, because if you haven't been a youth rider on restricted gears, learning how to pedal is vital."
As far as Storey is concerned, online data reveals only one component of a rider's potential – telling us little or nothing about mentality and psychological grittiness.
"We need to utilise these online platforms really carefully," she said, "because otherwise we're in danger of rarely seeing riders [in person] – you can't tell what a person's demeanour or resilience is like from an avatar."
The final selections for the academy included three riders who already had some racing experience, a promising para-cyclist, and also one complete novice, Meredith Gilbert, about whom Storey said: "She was just gifted – she's incredible! She had natural technical ability and incredibly strong physiology, and proved to have a level of resilience that an Olympic champion would want."
CW asked the coach 
of the GB under-23 
men's Academy 
Ben Greenwood whether online riding is the next big thing in talent-ID, and inadvertently sparked 
off a family debate...
Is talent-ID going to be revolutionised by platforms like Zwift?
I was chatting to Monica [Greenwood's wife, GB Cycling Junior women's Academy coach] about this and we got into a debate. Initially, we didn't fully agree – she thought I wasn't open enough to it. I know some of the other talent development coaches have already tried out some stuff with Zwift.
What was the crux of 
the disagreement?
There's obvious potential in harvesting data from lots of riders – but how much of it would be useful? My initial argument was that, because you need a smart turbo or a power meter to use Zwift, it would only pick up people who are already keen cyclists and who we would have found through the usual channels anyway. Back in the day, we used to go around schools and find raw talent – Jo Rowsell and Lizzie Deignan are two good examples. Testing peak power among non-cyclists can root out raw talent, whereas you're not going to do well in a Zwift race unless you're already a trained cyclist.
Monica saw greater potential?
Monica's argument was you might find someone who has a background in another sport – an injured runner, for example – who shows potential in cycling. At the moment [because of the coronavirus lockdown] more people will be training on stationary bikes, so in six months' time we might see loads of people putting in good performances on Zwift. The question is, how would we find them?
How impressive a 
performance would it have to be to pique 
your interest?
That's another good question. I guess from a GB point of view, the person would have to be hitting powers higher than someone already on the squad. The advantage 
is, something like Zwift captures the 
imagination and motivates people to try hard – thousands of people are signed up on it because it's exciting.
What kind of power, as a benchmark, would turn your head?
Our best young riders can do 800 watts for a minute; in terms of peak power, one of them can hit 1,500 
watts. Any youngsters out there who can get near to those figures would be welcome to apply!
What about the skills Zwift 
can't measure?
That's the thing. The Zwift Academy still tests finalists on the road before making their selections. They have to find out if the person can actually ride a road bike. Can they ride up a climb, can they corner, etc? Someone could have the world's best power, but how useful is that if they can't corner or ride in a bunch?
Why no more going into schools 
talent-spotting?
They found that the cost was millions of pounds to go around the country, and when you say to a kid, "You could be a world-class cyclist," too many of them respond, "Well, I want to be a footballer!" That's the challenge: every sport is battling for the same athletes.
Is modern tech like smart-trainers raising standards in cycling?
Yeah, at junior level it might be why we're seeing 18 and 19-year-olds, the likes of Remco [Evenepoel], [Tadej] Pogačar at the top level, and Quinn Simmons going straight to WorldTour. Those guys must have been training with power; they're not just going out on the local chaingang to get to that level! But how far do you take it? Do you want 14-year-olds training with power? I'd say probably not. Then again, if every other country is doing it, we'll have to decide.
So, did Monica win you over to her side of the argument?
Yeah, on the female side, we certainly have to be open to this type of thing. You'd be crazy not to want more opportunities to find more good riders. Anything that allows riders to connect with us and highlight what they can do is to be welcomed. Who knows what the future of cycling will look like, but online platforms are going to play an important part.
Online racing isn't 
going to replace road 
or cyclo-cross or mtb, 
but it is part of the 
future, for sure, and if 
we don't engage with it, we'll be missing out and falling behind.
This article was originally published in Cycling Weekly magazine in 2020
Thank you for reading 20 articles this month* Join now for unlimited access
Enjoy your first month for just £1 / $1 / €1
*Read 5 free articles per month without a subscription
Join now for unlimited access
Try first month for just £1 / $1 / €1