Petacchi leaves Vuelta for Italy, doping investigation waits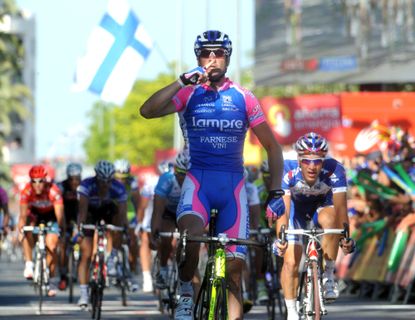 Alessandro Petacchi (Lampre-Farnese Vini) abandoned the Vuelta a España today during the stage to Alcoy, Spain. He will return home to La Spezia, Italy, where he is involved in a doping investigation.
"I'm in a deep s**t", he told the Vuelta a España's press service. "I feel like a dead man. My arm is painful. I've had a bad night. I have no morale. I don't know how much more I can ride my bike."
Petacchi felt the pains resulting from a crash early into yesterday's stage that also involved sprint rival Mark Cavendish (HTC-Columbia). The crash came only one day after Petacchi beat Cavendish in the sprint on the seventh stage into the city of Orihuela and over one month from when he beat Cavendish for the Tour de France's green jersey.
He may have had to abandon the Vuelta a España early regardless due to the possibility that the Italian Olympic Committee (CONI) will recommend a doping suspension in the next week. It is investigating him over charges of using synthetic blood Perfluorocarbon (PFC) and human serum albumin in 2009.
Police searched Petacchi's home and two other locations owned by his wife in April. They did not find anything in their raids, but in a simultaneous raid at team-mate Lorenzo Bernucci's home, they found banned pharmaceuticals.
The raids were based on the investigation of Padova prosecutor, Benedetto Roberti. Roberti passed his documentation on to CONI's head prosecutor, Ettore Torri, who is now investigating the charges.
CONI heard Bernucci, who confessed to charges, and Petacchi on Tuesday, August 24, in Rome. It continued its hearings with Lampre's Sports Director Fabrizio Bontempi, Doctor Carlo Guardascione and team masseur Paolo Chiesa.
On Thursday, CONI heard Petacchi's wife Anna-Chiara and on Friday, Bernucci's mother and brother.
Petacchi may face a four-year to lifetime suspension because these charges, if verified, will count for his second doping offense. At the 2007 Giro d'Italia, he tested positive for excessive levels of asthma medication, Salbutamol.
Thank you for reading 20 articles this month* Join now for unlimited access
Enjoy your first month for just £1 / $1 / €1
*Read 5 free articles per month without a subscription
Join now for unlimited access
Try first month for just £1 / $1 / €1